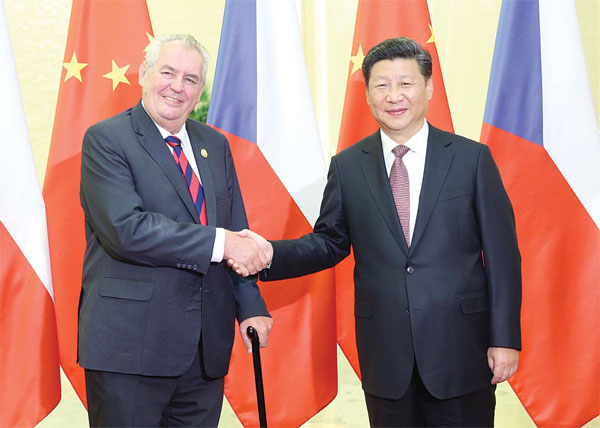 President Xi Jinping meets Czech President Milos Zeman in Beijing on Sept 4, 2015. [Photo/Xinhua]
Relations between China and the Czech Republic have intensified in the last two years, as demonstrated by the upcoming fourth meeting between President Xi Jinping and Czech President Milos Zeman since February 2014.
The meeting will be held in Prague during Xi's visit to Czech from Monday to Wednesday, which is his first visit, as China's president, to a Central or Eastern European country. It will also be the first time the Czech Republic, as an independent state, will receive a Chinese president.
Bilateral relations have experienced a dramatic upswing, attaining more importance in each country's foreign policy reflected in a marked shift in ties.
From previously criticizing China on Tibet and human rights, since 2013 Zeman and the new Czech government of the Czech Social Democratic Party have sought to pursue a more pragmatic foreign policy towards and economic cooperation with China. The first meeting between Xi and Zeman was held during the Sochi Winter Olympic Games in 2014, symbolizing a "reset" in relations.
Indeed, both sides have expended efforts to improve bilateral relations and reappraise their mutual importance. In 2012, China proposed and pushed forward cooperation with 16 Central and Eastern European countries, including the Czech Republic, as part of the 16+1 cooperation framework.
In the same year, the Communist Party of China and the Czech Social Democratic Party institutionalized bilateral contacts. In particular, China's Silk Road Economic Belt initiative, announced in 2013, has catalyzed prospects for strengthening economic cooperation with countries connecting China with Europe. And the Czech Republic's geographical location at one end of the new Silk Road makes it important for China.
Compared with its peers in the Visegrad Group, namely Poland and Hungary, the Czech Republic's economic relations with China got off to a relatively slow start. But last year it became the second-largest trade partner of China among Central and Eastern European countries.
Significantly, in 2015, a huge package of investments, encompassing the fields of finance, manufacturing, aviation, food, media and sports, was accomplished by the Chinese private enterprise, China CEFC Energy Company Limited. And this month, the China-CEEC Investment Cooperation Fund bought 95 percent of the stock in Energy 21, the Czech Republic's second-largest photovoltaic power plant operator.
According to Zeman's projection, Chinese investments in the Czech Republic will increase by about $1.8 billion in the near future. The country is also set to play the role of a key hub for Chinese tourism and logistics in Central and Eastern Europe.
Additionally, the construction of the Danube-Oder-Elbe canal will probably represent the first infrastructure collaboration project between the two countries. This could herald future 16+1 cooperation in the context of China's Belt and Road Initiative.
But warming bilateral relations are being challenged by developments in the Czech society and domestic politics. Prague's more pragmatic diplomacy toward Beijing has not gained political consensus in the Czech Republic and come under attack from several quarters, including some conservative politicians from right-wing parties, civil society and the media. This has cast some doubts on future cooperation in the Belt and Road Initiative.
Therefore, it is necessary to build mutual political trust, align national strategies, implement cooperation in infrastructure and complementary capacity, and increase people-to-people exchanges between the two countries.
On an optimistic note, Xi's visit to the Czech Republic will create ample opportunities to showcase the growing importance of bilateral relations with the inking of more than 20 agreements on cooperation projects. It will also give Czech people the opportunity to get to know more about China. A new phase of China-Czech cooperation is set to begin.
The author is an associate researcher at the Central Compilation & Translation Bureau.