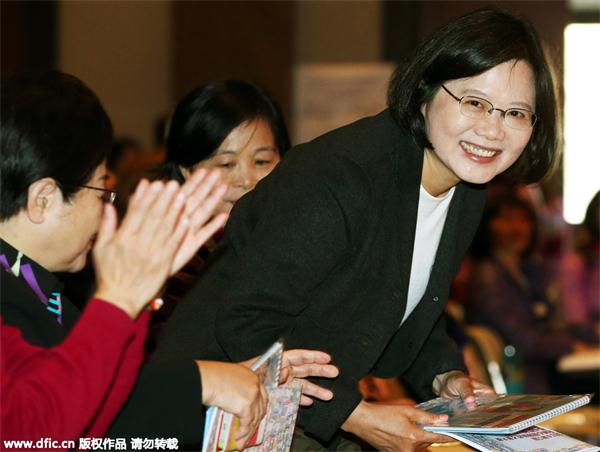 Democratic progessive party leader Tsai Ing-wen attends to the talent competition of children with mental disabilities in Taiwan. [Photo/IC]
Since the election of Tsai Ing-wen, from the pro-independence Democratic Progressive Party, in January 2016 as Taiwan leader, speculation over her position on cross-Straits economic exchanges has been rampant. It should have been clear, though, that she would be lukewarm toward such economic exchanges if one took her past remarks seriously.
However, her attitude became ambiguous during the election campaign, opening up room for imagination. Still, she might favor a policy that can reduce Taiwan's economic dependence on the Chinese mainland. And for that reason, a creative "guilt economy" - similar to guilt tax - may gradually emerge in Taiwan.
By no means does Tsai's record create optimism. She used to oppose the Economic Cooperation Framework Agreement and strongly supported the "Sunflower Movement" of March 2014, which triggered extensive aversion in Taiwan toward the Cross-Straits Service Trade Agreement.
In fact, Tsai was well known for her consistent effort to control the economic exchanges between the two sides. The "Mainland Affairs Council" under her leadership, for example, adopted a series of security indices to prevent over-reliance on trade with the mainland.
Although doing without anti-mainland rhetoric, Tsai is in actuality pushing for a "south-focused" policy that she hopes will incorporate both Southeast Asian and South Asian economies to substitute for the mainland. She even envisions an economy of culture by deepening mutual understanding and appreciation with the prospective southern partners, in the hope that economic relations will enhance the cultural bondage, a line of thinking remarkably akin to the mainland's philosophy on the cultural relationship with Taiwan.
The island's businesspeople are nevertheless worried about their ventures on the mainland. Many are even eager to make new investments and purchases elsewhere or agree to offers of purchase from mainland buyers. Tsai is not in any position to stop them if business judgment points to profitability. But since she is not certain about how economic conditions will evolve in the following years, she may feel a better bet in the short term would be to remain acquiescent on businesses that may alleviate the pressure of retreat, unemployment and low salaries on her. In other words, business opportunities on the mainland could still be useful in the short term.
She will not sit idle, though, with her main fear revolving around the possible loss of economic autonomy. Despite an ambivalent policy of "neither encouraging, nor discouraging" she may pursue on the flanks of the economy a moral restraint constituted by a sense of "guilt" stemming from those making profits on the mainland.
Guilt will be both the deliberate construction of Tsai's policy and an expected outcome. In short, Tsai's substitution of "cultural independence" of Taiwan for "political independence" is seen not only in the cultural sphere but also in the economic sphere.
The intended cultural changes constituted in her South and Southeast Asia initiative are aimed at offsetting the "political incorrectness" of economic interaction with the mainland, which pro-independence politicians allege is threatening the island's "cultural independence". To the extent that her economic policy aims at "cultural politics", such campaigns immediately reduce Taiwan businesses on the mainland to cultural defections, and hence guilt.
This could lead to the rise of a "guilt economy", something the world has never heard of. Economic necessities will be registered in "guilt" under Tsai's leadership. It results from the combination of Tsai's pro-independence predilection, incapability of her policy to enhance the island's autonomy from the mainland politically as well as economically, and her determined leadership in internally consolidating the "culture" of Taiwan "independence". Tsai's administration as well as her party will benefit from such a "guilt economy". This is because a guilt economy as such will generate pressures on those making profits on the mainland to make contributions to her party or her "policy priority".
The author is a scholar of political science in Taiwan.