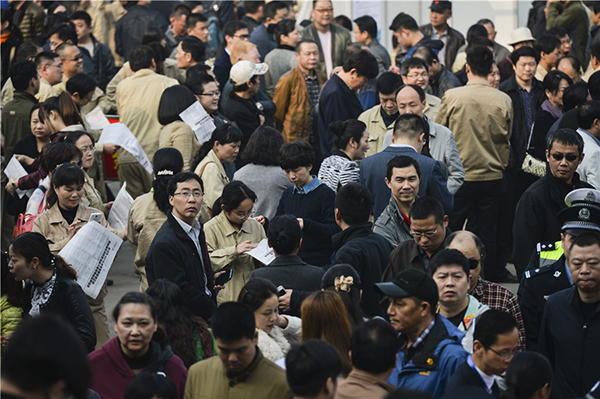 Workers from Wuhan Iron and Steel (Group) Corp attend a job fair on March 19, 2016. Seventy percent of the workers seeking jobs are between 40 and 50 years old and are mostly mechanics. China's steel and iron industry has entered recession in 2015, and the steel plant is laying off workers as it has suffered a loss of 500 million yuan in value per month at the third quarter of last year. Wuhan Iron and Steel (Group) Corp is China's third-largest steelmaker by output.[Photo/VCG]
In the next five years, China's steel sector has to reduce capacity by 100-150 million metric tons, while the coal-mining sector must also cut capacity by 500 million tons, with another 500 million tons to be restructured in the following three to five years.
Things are not likely to get better anytime soon. Recently, Chinese steel prices experienced a short-term rise, and market conditions are expected to improve after the shutdown of steel factories. Yet a full recovery for the global steel industry may take a few years.
Northeast China comprises Liaoning, Jilin and Heilongjiang provinces; it is also the country's industrial base. In the early 2000s, the government's "Revitalize the Northeast" campaign sought to turn the region into an economic growth engine. More recently, the rebalancing of the economy has been shifting the growth momentum away from heavy industries toward consumption and innovation-which means diminishing prospects for the Northeast.
Some observers call the Northeast China's "rustbelt". In the US, the belt extends from New York to Michigan. In the 1980s, it was plagued by economic decline, population loss and urban decay, because of the shrinking of its once powerful industrial sector. Some enclaves never really recovered.
There may be some parallels between the US rustbelt and Northeast China, but differences abound. By the early 1980s, the US was already a major advanced economy with high living standards. It completed its industrialization decades ago, and the service sector dominated employment.
In China, the differentiation of regional economies is still accelerating, average living standards remain relatively low, and industrialization continues in many provinces. China's transition to a service-centric economy has only begun. And the central government, through its stakes in the State-owned enterprises, can still play a major role in shaping the transition.
In other words, China's so-called "rustbelt" has legitimate hope, but only with the right policies.
If overcapacity is reduced by 30 percent in targeted sectors-steel, coal mining and cement-it would translate to layoffs of up to 3 million workers in the coming two to three years. Last year, China created 13.1 million new urban jobs and this year's target is 10 million. So if a significant majority of the laid-off workers in the Northeast can be re-employed, the regional economy would prove resilient.