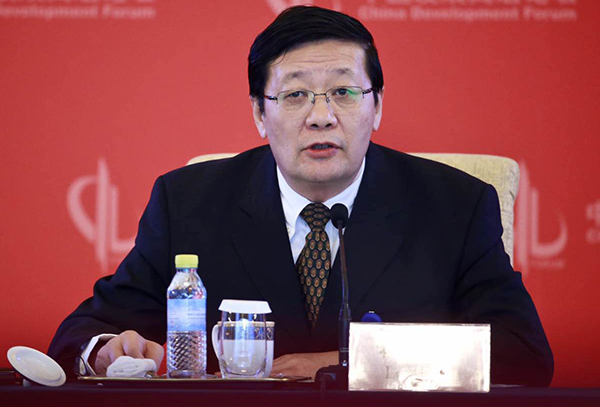 China's Finance Minister Lou Jiwei speaks at the China Development Forum in Beijing on Sunday. [Photo by Feng Yongbin/China Daily]
Moody's cut its credit rating outlook on China and the country's biggest banks from stable to negative in early March, citing rising debts, falling foreign reserves and an "inadequate capability to carry out reforms".
Moody's has exaggerated China's short-term volatilities, while ignoring the country's long-term economic soundness. When asked to comment on the downgrading at the China Development Forum in Beijing on Sunday, Chinese Minister of Finance Lou Jiwei responded: "We don't care much about the ratings". This indicates Chinese policymakers' confidence in the economy.
China has been under increased economic downturn pressures over the past year, but its economic indicators are still strong. China's still-admirable economic growth rate, its sound fiscal conditions and abundant foreign reserves, as well as its still relatively high interest rate level means it still has a big space to adjust its fiscal and monetary policies to boost economic development.
True, the increasing debts held by China's local governments do pose potential risks, but while rushing to lower its outlook on China, Moody's ignored the basic fact that its local governments still enjoy a good credit record. More importantly, the Chinese government possesses a huge amount of assets, most of which are operational with a high level of mobility.
And despite the obvious short-term fluctuations that China's capital market has experienced since the second half of last year, the yuan is making sound and steady progress toward internationalization, and any short-term fluctuations cannot negate the decision to push forward the reform of the yuan's exchange rate regime.
In fact, international ratings agencies such as Moody's always make delayed assessments of the Chinese economy. The lukewarm market responses from home and abroad to Moody's lowered outlook on China, even a robust stock market rebound in the wake of its downgrading, best testify to its misjudgment of the situation.
China's long-term economic development trend will not be swayed by prejudiced and non-objective opinions from any international ratings agency.