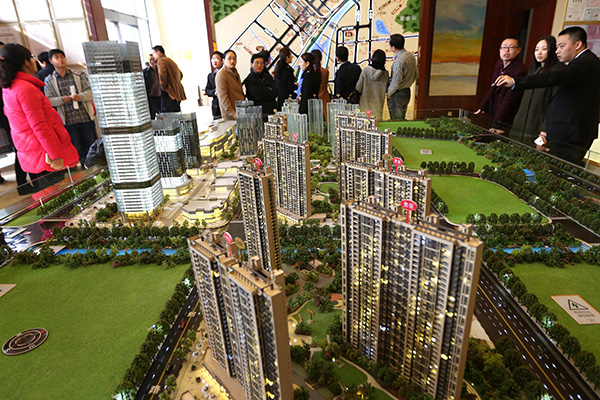 Homebuyers at the sales center of a property project in Nanjing, Jiangsu province, on Feb 29. Cities like Nanjing and Shanghai have announced preferential housing tax policies, which have ignited local enthusiasm for home-buying. [Photo provided to China Daily]
According to reports, the government in East China's Jiangxi province requires its city authorities to encourage local rural villagers to purchase houses in cities. It has even instructed them to spread the idea among rural residents that "the value of houses in cities will rise". Beijing News asks: is it a provincial government or a real estate developer?
The Jiangxi provincial government has committed two wrongs. First, forgetting its own role, it has sided with developers by acting as a sales promoter for them. Second, it has promised house prices will rise, which is unambiguously forbidden by the Advertising Law.
Data show by the end of 2015, there were 14.9 million square meters of housing for sale in Jiangxi alone, 26.8 percent higher than last year. That explains why the Jiangxi provincial government is making such an irrational move, it is under heavy pressure to reduce its unsold housing inventory.
However, that pressure does not justify such a move. By making such advertisement request and claim, the provincial government is backing the developers with its status as government, which might mislead many farmers into believing the government will defend realty prices with administrative measures. The Jiangxi government is abusing its power in hand.
For decades, rural residents have faced greater loan burdens than urban residents when purchasing property, since their incomes are less stable. If governments mislead rural residents into purchasing property when it is beyond their means, it will raise the financial risk for banks as well as the purchasers.
There are many more jobs that local governments need to do instead of promoting house sales. For example, they need to better provide social welfare in the urbanization process, and break the barriers that prevent rural residents that migrate into cities from enjoying equal social security and public services. It is time for local governments to better perform their own roles, instead of speaking on behalf of real estate developers.