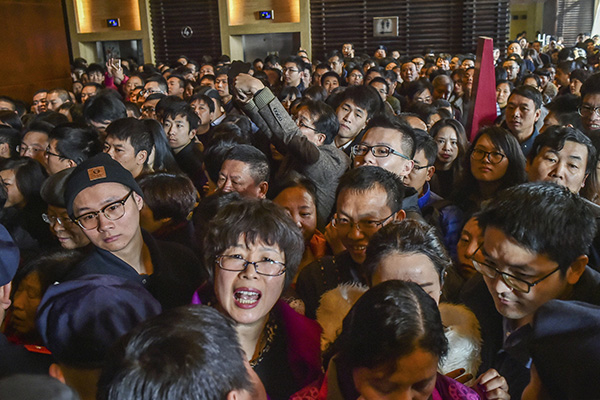 Homebuyers swarm into a hotel as a real estate company starts the sale of 388 apartments on Feb 27 in Hangzhou, Zhejiang province. The sale attracted more than 2,000 people. [Photo/China Daily]
Different real estate policies should be adopted across the country as key cities have seen skyrocketing property prices while sales in smaller cities are still falling, CPPCC members suggested.
"There are already signs of overheating in the countries' key cities, and policymakers should take timely measures to ease people's discontentment over the skyrocketing prices," said Jia Kang, a member of the Chinese People's Political Consultative Conference National Committee and a former director of the Research Institute for Fiscal Science at the Ministry of Finance.
Home prices in Shenzhen have increased 72 percent in the past 12 months, according to the Urban Planning, Land and Resources Commission of Shenzhen Municipality. Shanghai and Beijing are following suit. The price of pre-owned homes in Beijing, for example, has jumped 10 to 30 percent after the Chinese Lunar New Year, industry insiders said.
Zhang Xi, a 28-year old company executive in Beijing, is really anxious as the seller of a two-bedroom apartment she planned to buy increased the price by 300,000 yuan ($46,000) within one day.
"The market has been crazy," said Zhang.
Jia said, "More supplies should be added to the key cities while not loosening existing restrictive policies."
For Mei Xingbao, CPPCC member and former chairman of China Orient Asset Management Corp, deleveraging policies should be rolled out in metropolitan cities like Beijing, while leveraging policies should be promoted in smaller cities.
Huang Qisen, a CPPCC member and chairman of property developer Thai Hot Group, said the property price hike in the first-tier cities such as Beijing, Shanghai and Shenzhen since the beginning of this year is partly due to the government's monetary easing policy and an unbalanced supply and demand.
"The price increase, however, also has a solid foundation due to the strong purchasing power of wealthy people in those cities and the continuous influx of newcomers," said Huang. "But for developers, we don't like widely fluctuating property prices."
Beijing's property prices are very likely to continue to rise this year though not as fast as Shenzhen's skyrocketing pace due to existing rigorous measures, Huang said.
"I don't expect the central government will issue new real estate policies after the two sessions, but the local governments may," said Huang, adding that short-term policies like "zero down payments" in Shenyang is unadvisable and may cause harm in the long run.