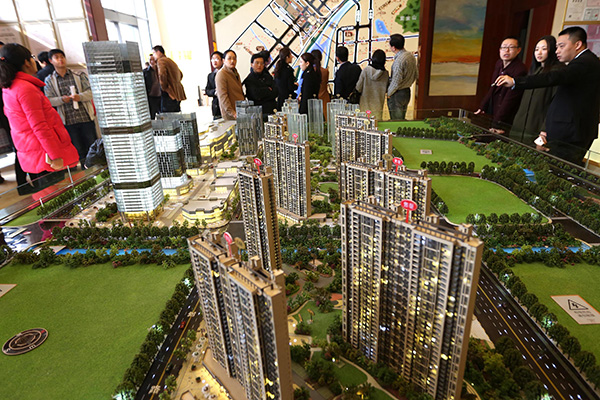 Homebuyers at the sales center of a property project in Nanjing, Jiangsu province, on Monday. Cities like Nanjing and Shanghai have announced preferential housing tax policies, which have ignited local enthusiasm for home-buying. [Photo provided to China Daily]
Effects of down payment easing, lower transaction costs show in February realty data
Home prices in 100 of the biggest cities in China climbed 0.6 percent month-on-month on average in January, signaling a recovery in demand, according to the findings of a survey released on Tuesday by the China Real Estate Index System.
Average price of a new property was recorded at 11,092 yuan ($1,690) per square meter, up 5.25 percent year-on-year, with 61 cities recording month-on-month growth in prices.
Analysts said recent government policies have helped in managing diverse risks in first-tier cities where the market tended to get overheated. In second- and lower-tier cities, significant inventories need to be reduced, and further efforts are need to match supply and demand.
In second- and lower-tier cities, recent moves to relax mortgage down-payment requirements have helped boost sales of first and even second homes. Thus, inventories are lower now, analysts said.
The People's Bank of China and the China Banking Regulatory Commission announced in February that the minimum down payment for first-time homebuyers in some regions was reduced from 25 percent to 20 percent of the cost of the property. This move came five months after authorities lowered the applicable down payment rate from 30 percent to 25 percent.
Down payment required for second homes was lowered from 40 percent to 30 percent.
Costs of transaction were also cut further. Deed and business taxes for home purchases were reduced on Feb 22, a measure that aims to boost market demand and clear unsold inventory. This is expected to help second-tier cities where there is already buying interest, said analysts.
Such moves' impact on deals for residential properties in many second-tier cities has been "obvious", said real estate professionals.
Zhao Xinshuo, a real estate agent with Baosha Real Estate Agency in Wuhan, Hubei province, said deals picked up in the past two months as more buyers can now afford the down payment.
The average of home prices in Wuhan climbed from 8,700 yuan per sq m in January to 9,110 yuan in February. Some 13,350 flats were sold in January. The figure rose to 15,295 in February.