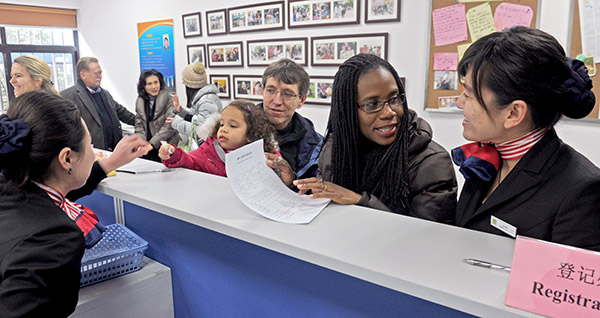 A family from the United States checks in at the Lianyang International Community service center in the Pudong New Area of Shanghai. The center provides services such as residence registration, consultation and exchange of information on daily life. [Photo/China Daily]
"Even if we are supposed to write for expats, I had no idea of the difficulties that foreigners go through on a daily basis," a Chinese colleague of mine recently confessed to me after I published an article about two startups that offered virtual personal assistants for expats in China.
The online concierge companies I interviewed were helping foreigners deal with simple day-to-day problems like setting up an Alipay account, shopping online or ordering food.
Despite being an extremely simple concept, it had never occurred to her that there could be companies just focusing on making life easier for expats.
My colleague then started asking me how foreigners could meet friends or even romantic partners and how they managed to do other simple things like applying for a local debit card.
"More companies need to be set up to cover those issues," she said, aware that it is still an untapped market.
Luckily, more and more foreign and local entrepreneurs are realizing that making the life of expats easier is a lucrative business opportunity.
Foreigners rely on these companies to become completely independent here or to just simply save time trying to understand how the system works for expats.
China can be a daunting place for foreigners because we do not have access to the same services that are available to locals.
These range from small things like not being able to print tickets at the self-service machines at train stations to larger problems like applying for a credit card in a local bank.
This current imbalance between the services available to locals and foreigners offers a unique opportunity for startups to provide specialized services for the expat community.
After all, it was not that long ago when foreigners started to become an important part of Chinese society.
In 1978, China embarked on reform and opening up. A crucial element of this market transformation was to allow and welcome more foreigners to work in the country.
Throughout these almost 40 years, the number of qualified workers willing to relocate to China has been steadily increasing.
Nowadays, China has become an important destination for many young foreign workers looking for better career prospects.
Meanwhile, Chinese society has been undergoing a rapid economic and technological transformation that is driving the expansion of the online services available to its citizens.
Nonetheless, this technological transformation has become a double-edged sword for the expats living here.
Take online shopping as an example. Setting up an account on Alibaba Group Holding Ltd's Taobao allows foreigners to have access to one of the world's largest selections of online goods in one single platform at very competitive prices.
However, most foreigners have problems setting up online payments in China like Alipay and WeChat wallet because the system is designed to support Chinese characters and not the Latin alphabet.
This is an important point since most might think that these companies only cater their services to clueless foreigners with no Chinese knowledge. This is far from the truth.
Even if you are a self-sufficient expat fluent in Chinese, you will still have to face a system that has not been designed for foreigners.
That means that you might need to spend a lot of valuable time to get basic things done. And because time is a precious commodity, these type of companies will be on the rise in the coming years.
I wish that just as my colleague did, more investors would realize that we desperately need more companies like this in China.