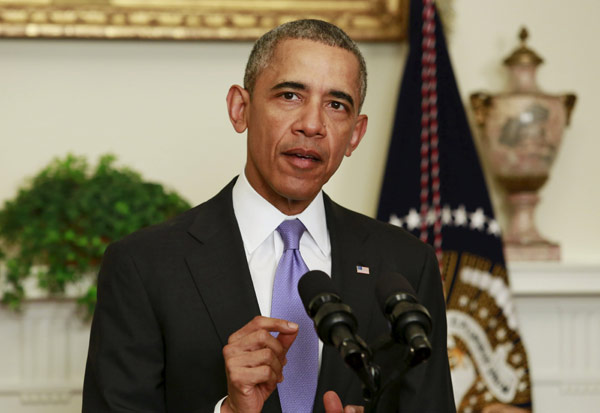 US President Barack Obama delivers a statement on Iran at the White House in Washington, January 17, 2016. [Photo/Agencies]
The latest cover story in The Atlantic written by Jeffrey Goldberg is quite telling of US President Barack Obama's foreign policy.
In the article, The Obama Doctrine, Goldberg reveals that the US leader has little interest in the Middle East, which he sees as quite bleak. That, surprisingly, also includes Saudi Arabia, a US ally in the region and the largest buyer of US weapons.
Talking on CBS' Face the Nation on Monday, Goldberg described Libya as Obama's Iraq. The United States and its NATO allies pursued regime change there by abusing a 2011 UN Security Council resolution.
Asia has been viewed by Obama as the most promising region. Based on his many interviews with Obama, Goldberg said Obama has made a "pivot to Asia" a paramount priority and he believes US economic future lies in Asia.
According to Goldberg, Obama has been focused on rebuilding the sometimes-threadbare ties between the US and its Asian treaty partners, and he is perpetually on the hunt for opportunities to draw other Asian nations into the US' orbit.
The article gave substance to the suspicion that the US has been trying to profit from the maritime territorial disputes between China and some of its neighbors and is seeking to drive a wedge between them.
This is manifested in Obama's approach to Vietnam. And Obama administration officials repeatedly hinted to Goldberg that Vietnam may one day host a permanent US military presence.
As to what country Obama considers the greatest challenge to the US in the coming decades, Obama said "in terms of traditional great-state relations, I do believe that the relationship between the United States and China is going to be the most critical".He said that one possibility is a China that is on a peaceful rise, which will share with the US the burden and responsibility of maintaining the international order, while the flip side is "not only do we see the potential for conflict with China, but we will find ourselves having more difficulty dealing with these other challenges that are going to come".