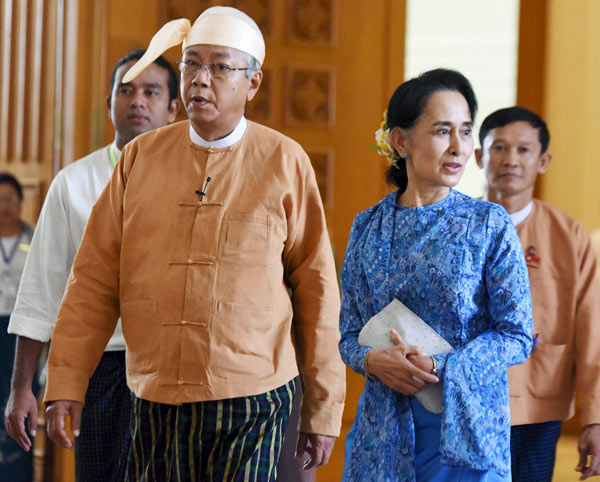 Myanmar's new president U Htin Kyaw and National League for Democracy party leader Aung San Suu Kyi arrive at parliament for the presidential inauguration ceremony in Naypyitaw on Wednesday. Stringer / REUTERS
The inauguration of Myanmar's first elected civilian president in 54 years on Wednesday marked the smooth power transition in the Southeast Asian nation and the start of a new era.
Given that Myanmar's democratic process started from a relatively low level of social development, the handover of power without any major social disturbance is indeed praiseworthy. The low starting point, however, also means the new government faces some arduous tasks in the years ahead.
Since Aung San Suu Kyi will hold four ministerial posts in the new government, which puts her in a de facto leadership position, she and the new government led by the National League for Democracy will have to quickly make achievements to prove such an arrangement is reasonable.
The holding of 25 percent parliamentary seats by the military, the allocation of three important ministerial posts to the military and its actual possession of a veto over constitutional revision generally reflect an understanding on ensuring political stability and promoting economic development.
However, the military's considerable influence will also possibly limit the space for the new government to launch much needed reforms.
A crackdown on corruption to realize social equity or efforts to bring the nation under the helm of Aung San Suu Kyi as a "political strongman", may give rise to unavoidable conflicts between the new government and the military, thus damaging the political environment for the former's governance.
There has so far emerged no sign of Myanmar's new government estranging itself from China and falling into the arms of the United States. Maintaining the neutral and balanced diplomatic policy Myanmar has traditionally adopted is in the best interests of the country.