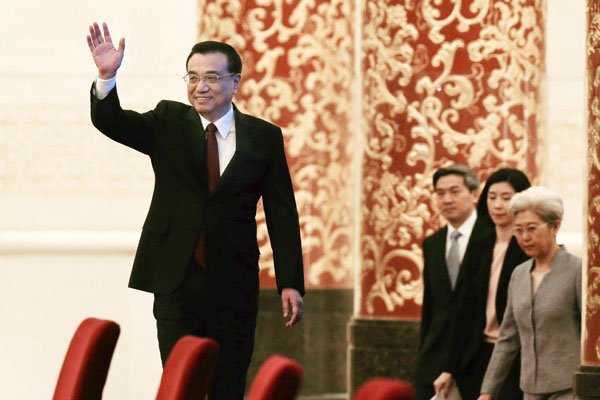 Premier Li Keqiang arrives for the news conference after the closing meeting of the fourth session of China's 12th National People's Congress at the Great Hall of the People in Beijing, March 16, 2016. [Photo by Xu Jingxing/chinadaily.com.cn]
Premier Li Keqiang has said "common interests will further expand" between China and the United States as long as the two sides "act with good faith and properly manage their differences".
Li made the remarks in response to a question about disputes between the world's two largest economies at a Wednesday press conference in Beijing.
The Premier noted that many people have been talking about differences but they overlooked one key fact that China became the United States top trading partner last year, with two-way trade reaching $560 billion.
"This in itself shows that the common interests between the two countries are constantly expanding, and (the common interests) far outweigh their differences," he added.
About the ongoing negotiations on the Bilateral Investment Treaty, Li said China"will give US investors wider market access in a gradual manner, but we hope such openings would be mutual, and the BIT negotiations should proceed on the basis of seeking mutual benefit".
Elaborating on the ongoing US election, Li said:"I believe that no matter, in the end, who gets into the White House, the underlying trend of China-US ties will not change.
"It has been several decades since the two countries established diplomatic relations, and the relationship has seen more than a fair share of ups and downs, but it has been always moving forward, which I believe is the underlying trend," he added.
On differences between the two countries, Li said there are up to 100 various dialogue and exchange mechanisms between China and the US.
"As our cooperation expands, the number of differences may naturally rise, but the percentage of differences in the overall China-US relationship will only come down," Li said.