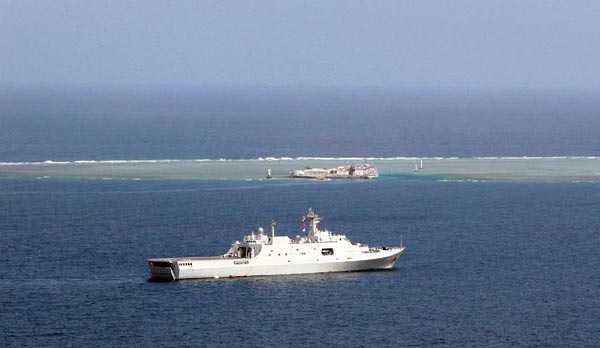 A formation of the Nanhai Fleet of China's Navy on Saturday finished a three-day patrol of the Nansha islands in the South China Sea. [Photo/Xinhua]
The report of China deploying a missile system on Yongxing Island, part of the Xisha Islands in the South China Sea came as a "surprise", with the Western world citing it as further evidence of China's "direct military provocation" to other countries and a threat to regional peace and order. The United States expects to hold "very serious talks" with China, and its allies have expressed concern over the development.
This is quite intriguing.
In the past, the international community mostly focused on the disputes over the Nansha Islands in the South China Sea which largely involved China and the Philippines. And despite Beijing's clarifications and stand, Washington has made its policy very pro-Manila along with its actions in the Asia-Pacific, a region that is thousands of kilometers away from its coasts.
As a matter of fact, for several decades China has used limited defense measures on Xisha Islands, which it has already announced are its territorial sea baseline and have nothing to do with the so-called militarization of the South China Sea. Therefore, this is not an intentional change that China has brought up at this moment. Instead, the US' intention to confuse between Xisha and Nansha seems to be obvious and direct.
As to the confusion over "right to self-defense" and "militarization", Article 51 of the UN Charter entitles the "inherent right" to self-defense to UN members, and for decades China's self-defense measures on the Xisha Islands have not been seen as a controversial issue. But the West is now trying to portray it as a controversial issue despite the fact that high-level officials in the US or its ally countries have not openly raised it. How could such self-defense measures suddenly become China's "reckless step" intensifying militarization in the Asia-Pacific region?
Speaking of militarization, the US has decided to deploy 60 percent of its navy and air force in Asia-Pacific. Also, it keeps sending spy planes and battleships on reconnaissance missions in China's territory, and holds frequent joint military drills with its allies in the region and continues to sell huge amounts of military equipment.
Talking about confusion over "policy" and "capability", according to US media, the missiles deployed by China on Yongxing Island have a range of about 200 km and pose "a threat to all forms of civilian and military aircraft". This is another ploy of the US to create confusion. China's self-defense measures do not pose a threat to major sea lanes and air routes in the region, so long as some incidental "innocent passage" does not evolve into a serious provocative threat to China's sovereignty.