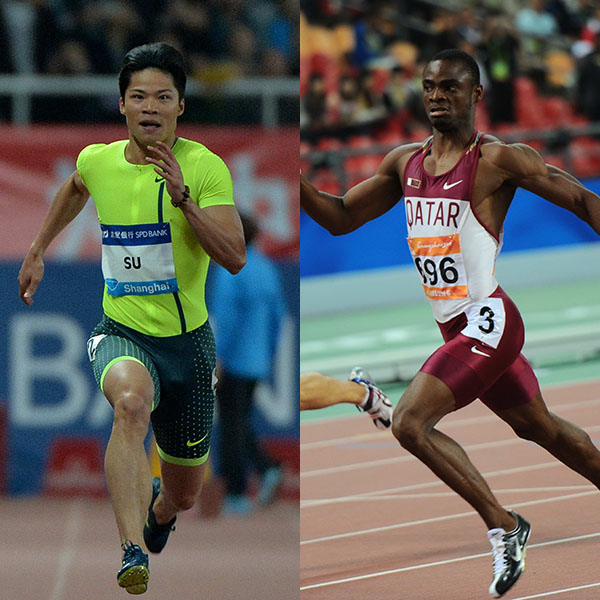 China's Su Bingtian (left) lights up the track en route to winning the 100m event at the 2014 Diamond League meet in Shanghai, while Nigerian-born Femi Ogunode of Qatar powers to one of his two gold medals at the 2010 Asian Games in Guangzhou. Both men will be in action at the IAAF world championships in Beijing. [Photo/Agencies]
Coached by Ma Junren, the women's long-distance running team from Northeastern China's Liaoning province won many medals in the early 1990s and then quickly faded in 1993 for untold reasons. Writer Zhao Yu wrote a book about it years later but was forced to delete a chapter about Ma forcing his athletes to use performance-enhancing drugs; now the chapter has finally been published. Beijing News asks who forced the chapter to be deleted:
As soon as Ma's team faded, there were questions, because that incident "coincided" with the International Association of Athletics Federations strengthening its drugs test regime.
Yet those daring to question Ma and his team were put under high pressure by the authorities. The writer Zhao is a typical example. Worse, various levels of media outlets backed up Ma by defending his lies. In a Spring Festival Gala at the time, probably the most influential TV program then, they even broadcast a skit claiming "doping is nonsense".
Now the truth has been revealed and what lessons shall we learn from the past folly?
Those defending Ma's lies have a glorious excuse: for the nation's honor. They say the female runners under Ma's command broke records for China, which is something worth celebrating; for that great cause, all measures are fair.
By saying this, they are not only violating the modern sporting spirit, but have also ruined the athletes, who were reported to have suffered from liver problems, and were badly treated when trying to report Ma's malpractices to higher authorities.
Also, officials lost in such a mindset forced the writer Zhao to delete the truth from his book and kept it hidden so long.
No one is sure whether Ma will be held answerable for his malpractices. But at least now we should treat that page in history as a shame. It is also necessary for officials and residents to change the mindset that forces people to believe "national honor" surpasses everything. Only when the old, distorted logic is rooted out will we be able to prevent more similar shameful practices in the future.