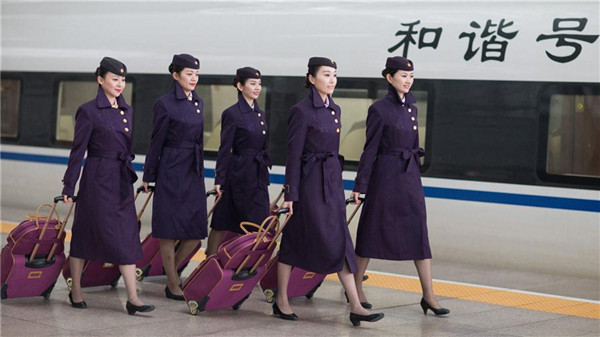 Train attendants prepare to board at Nanjing Station, East China's Jiangsu province, Nov 10, 2015.[Photo/Xinhua]
This Spring Festival holiday will see at least 2.91 billion people travel across the country in less than 40 days, with many of them using high-speed trains. Indeed, high-speed trains have become a source of pride for China, but that should not prevent the authorities from taking measures to not only strengthen railway hardware but also further improve on-board services. That may better justify them as a symbol of industrial upgrading.
For example, the authorities should introduce inexpensive packaged meals on all high-speed trains as they promised.
According to China Railway Corporation, by the end of 2015 the country had 121,000 kilometers of railways, including the world's longest high-speed railway of 19,000 km. But the on-board and off-board management, especially when it comes to catering service, is hardly as impressive. The 15-yuan ($2.3) meal boxes, which should have been available 24x7 on all high-speed and bullet trains by now, as required by the CRC a year ago, were reportedly sold out on a high-speed train from Nanjing in East China's Jiangsu province to Shanghai within 10 minutes of its departure.
Like most passengers, not once has this correspondent been informed of the customer-friendly meal box (or the 2-yuan prepackaged drinking water) while traveling by high-speed trains. More often, attendants in uniform push trolleys full of "nutritious set meals" costing more than 40 yuan and other foodstuff back and forth trying to avoid questions about the less expensive deals.
There is good news, though, as Germany, a global industrial leader, is seeking further collaboration in railway technology with China. Deutsche Bahn AG, Germany's largest state-owned railways company, is opening its first international procurement office in Shanghai after identifying some 40 potential suppliers of train products in China.