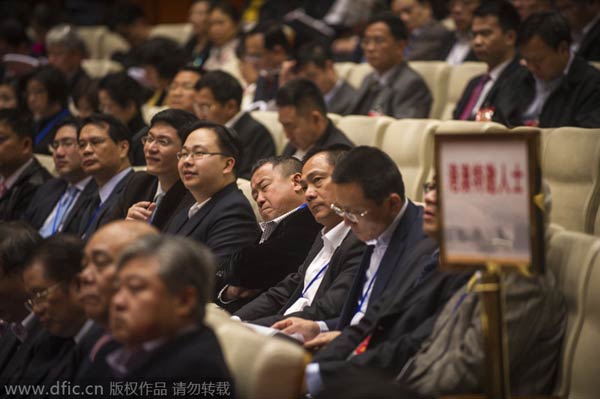 Eric Tsang closes his eyes during the two sessions of Guangzhou city, Guangdong province, Feb 2, 2015. [Photo/IC]
ERIC TSANG, a Hong Kong actor, has reportedly confirmed his resignation as political advisor to Jiangmen, a city in Southeast China's Guangdong province. Tsang has never shown up at an annual session of Jiangmen Committee of the Chinese People's Political Consultative Conference, the political advisory body, since he was elected in 2011. Changjiang Daily on Wednesday calls for more binding regulations on political advisors, who are supposed to help improve social governance:
In fact, it is not a surprise that Tsang chose to resign his position as the only "celebrity" political advisor for Jiangmen, given his five-year absence from all the local political events and the fact that he is also a member of the CPPCC Guangzhou Committee. The two cities normally hold their annual sessions at the same time, and he has reportedly focused on Guangzhou.
This highlights that long-awaited uniform regulations on political advisors are yet to take shape. A binding mechanism to streamline, supervise and regulate the election and resignation of all political advisors needs to be established.
In Tsang's case, he should have quit his advisory job in Jiangmen years ago despite his "dual-city membership", something that should not have existed in the first place because it would inevitably lead to his long absence from the annual two sessions of at least one of the cities.
True, the Guangdong provincial committee of the CPPCC dismissed two incompetent celebrity members including Sun Shuwei, the 1992 Olympic diving champion, in 2006. But that is hardly enough.
Celebrity political advisors, who have abundant firsthand information and experience regarding their careers, are of unique importance to the local governance. However, they should be chosen for their advisory contributions and qualifications, instead of just their celebrity status.