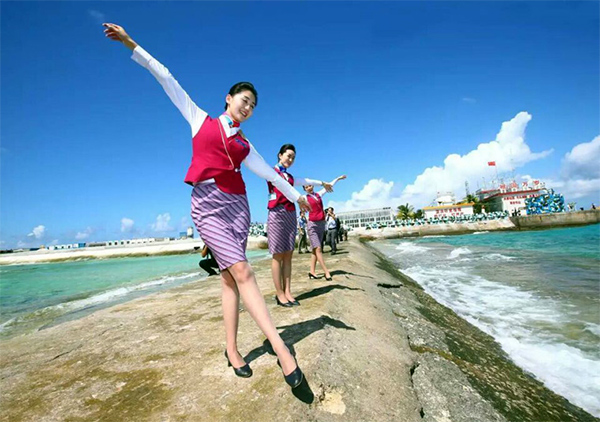 Stewardesses celebrate after China successfully carried out test flights of two commercial airliners on Jan 6 at a newly built airport at Yongshu Jiao in China's Nansha Islands. [Photo/Xinhua]
Vietnam and the Philippines have protested against China's test flights to its newly built airstrip on Yongshu Jiao in the Nansha Islands despite China's reiteration that the flights are within China's sovereignty.
Hanoi said the flights were provocative actions that threaten regional stability and restrict the freedom of navigation and overflights in the South China Sea. It even denied that China had properly informed it of the test flights.
Both accusations are groundless.
China's airstrip is on its sovereign territory and serves humanitarian purposes, including emergency landings and maritime rescue, and China informed the Vietnamese ahead of the test flights, as was clearly explained by China's foreign ministry last week.
At 5:46 pm (Beijing Time) on Dec 28, the Flight Inspection Center of the Civil Aviation Administration of China informed the Ho ChiMinh Flight Information Region of the flight plan and other technical information of the Chinese civil aircraft involved, in accordance with relevant regulations and international practices, the ministry said.
As such, the blatant denial by the Vietnamese is not only ill-advised but also ill-intentioned. It is especially inappropriate as China and Vietnam have made concerted efforts to establish good neighborly relations.
Manila, for its part, also said the Chinese flights had heightened tensions and anxiety in the region and could spark armed conflict in the disputed waters. This is alarmist talk which, together with the Vietnamese accusations, is intended to play up China's island reclamation activities. Their irresponsible behavior will not contribute to peace and stability in the waters instead it only ratchets up tensions.
Since last year, countries such as the Vietnam, the Philippines, the United States and Japan have formed a chorus criticizing China's island reclamation work. They have deliberately ignored the fact that some countries in Southeast Asia, the Philippines and Vietnam included, have over the years illegally seized and occupied Chinese islands and islets in the South China Sea.
They have not only launched reclamation work on those islands and islets but also militarized them. The US has never said a word about such blatant infringements on China's sovereignty and territorial integrity.
But China was still willing to shelf disputes and pursue joint development of the waters with countries involved in the disputes because the country has always looked to the larger picture of regional peace and stability.
Last year, China completed reclamation work on some islands and islets of its Nansha Islands, which is its legitimate right, as the work was undertaken in its territorial waters. It also repeatedly explained that the island reclamation will mostly meet various civilian needs including maritime search and rescue, disaster prevention and mitigation, meteorological observation, ecological conservation, and navigation safety.
This shows China is actually shouldering more international obligations and responsibilities. Unfortunately, China's explanation and goodwill have fallen on deaf ears again.
China's stance on the South China Sea remains consistent: It is working with Southeast Asian nations to negotiate a code of conduct for the South China Sea.
However, the recent misleading responses from Hanoi and Manila to China's test flights show these countries are trying to aggravate tensions in the waters and then pass the buck to China for the resulting frictions.
Their repeated provocations concerning China's sovereignty and territorial integrity have strained ties with Beijing, which cannot possibly serve their interests nor contribute to regional peace and stability.
China needs a peaceful environment for its economic and social development, and it is still willing to cultivate friendly ties with Vietnam and the Philippines, as good-neighborly relations are an important part of its diplomacy.
China's goodwill should not be returned with ill will. Its bilateral ties with Hanoi and Manila should not be taken hostage by differences and disputes. Friendly consultation and proper management of differences are the only way to resolve the South China Sea disputes.
The author is a senior writer with China Daily.
wanghui@chinadaily.com.cn