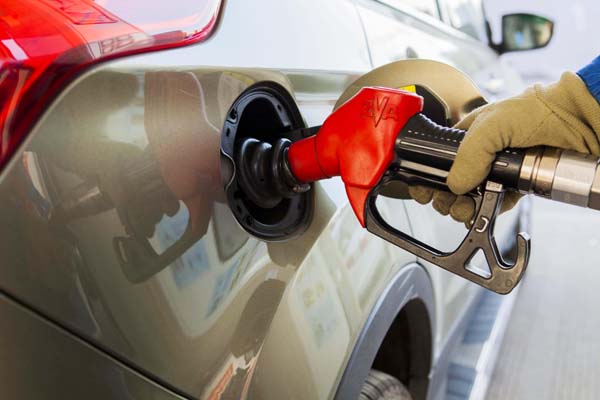 A worker fills up a car with fuel at a gas station in Lianyungang city, East China's Jiangsu province, Feb 9, 2015. [Photo/Xinhua]
If the only thing we have to fear is fear itself, the International Monetary Fund's decision to cut its global growth forecast for the third time in a year should not be interpreted as a result of worries about the Chinese economy or plummeting oil prices.
Instead, a thorough review of the fundamentals of all major economies is needed to help policymakers around the world prepare for a year that may be at least as turbulent as 2015.
Hard on the heels of China announcing its GDP growth was 6.9 percent in 2015, the slowest in 25 years, the IMF cut its global growth forecasts for this year and the next by 0.2 percentage points, predicting 3.4 percent growth for 2016 and 3.6 percent for 2017.
This has seemingly given credence to worries over China's slowdown.
But it is wrong to regard China as the major reason for the slower global growth.
The IMF actually maintained its 6.3 percent growth forecast for China in 2016 and 6 percent in 2017. Even if they are lower than the growth rate last year, such forecasts indicate that the world's second-largest economy can well be expected to contribute roughly one-fourth of global growth over the coming two years.
The IMF has not cut its forecasts for the Chinese economy along with the downward adjustments in its global growth forecasts, as it said it did not see a big change in China's fundamentals compared with six months ago.
But by supporting its lower global growth forecasts by citing the sharp slowdown in China's trade and weak commodity prices that are hurting emerging markets, the IMF risks fueling misguided fears about the transitioning Chinese economy.
On the demand side, plummeting international oil prices have long been attributed by many to China's sluggish industrial growth. The fact that China's imports fell by 13.2 percent to 10.45 trillion yuan ($1.61 trillion) in 2015 does point to a slowing of demand in China. But a close look at the country's oil imports will show that its appetite for imported oil has not weakened, nor is it likely to peak anytime soon as the volume of imported oil grew by 8.8 percent last year.
Without a proper analysis of its underlying economic realities, misguided fears about the spillover effect of China's slowdown will only add to the uncertainties that have already plagued the global recovery for too long.