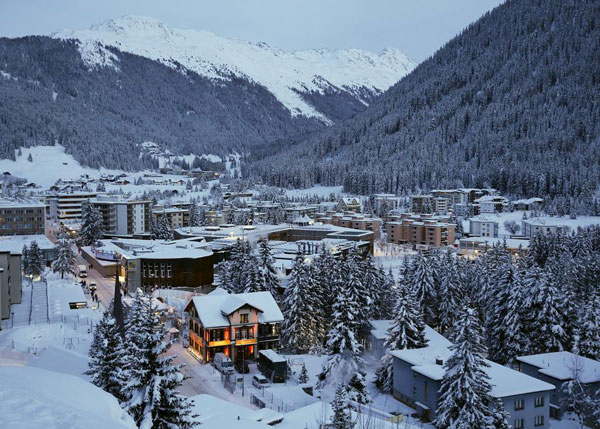 A general view of Davos ahead of the Annual Meeting 2016 of the World Economic Forum (WEF) in Davos, Switzerland January 18, 2016. [Photo/Agencies]
Once a year, politicians, business gurus, journalists and celebrities from across the world gather at the annual "thought fair" in Davos, Switzerland. This year's annual winter meeting of the World Economic Forum will be held in Davos from Wednesday to Saturday.
Because of the importance of the forum and the huge number of representatives, even some beds in Davos hospitals are said to be "rented out" to delegates during the annual forum. Given the mad rush, I've not been able to book a hotel room in Davos during any of the past six forums, and instead I have had to check into a hotel in a nearby town and commute for an hour by train to and from the forum venue every day. Nevertheless, the forum, thanks to the new ideas, trends, debates and conversations it generates, has been a regular feature on my calendar.
Despite being a small country with a population of only about 8 million, Switzerland has occupied a prominent place in the world of economics and business. Now Davos has a sister gathering-Summer Davos held in Tianjin and Dalian in rotation-in addition to other important regional meetings in Africa, the Middle East and other parts of the world.
Apart from that, Geneva is the second headquarters of the United Nations and home to dozens of international organizations, including the World Trade Organization and World Health Organization. And all these have increased the soft power of Switzerland.
By learning from Switzerland, China can shape its own soft power. In his New Year message, President Xi Jinping said the world is too big and the challenges too many, and China will adopt proactive approaches to embrace and tackle all of them. On these vows, Xi embarks on his first overseas tour of 2016 which will take him to Saudi Arab, Egypt and Iran and coincides with the Davos forum. And Xi's Middle East visit comes soon after the Asian Infrastructure Investment Bank started operation on Saturday.
Apart from Chinese politicians' continuous efforts to provide solutions for global problems, China is also trying to improve the capacity-building of its think tanks. And a group of 25 academic organizations were recently encouraged to come up with quality intellectual results.
All these developments indicate China is keen on playing a proactive role to help provide solutions to global problems and make the world a better place. In this context, Switzerland offers at least two sets of references for China.
First, China has to invest energy, time, patience and inputs to build platforms to come up with influential thoughts and ideas. And to make debates interesting and fruitful, the government, businesses, the media and the academia should play their respective roles. Businesses, for example, should fulfill their social responsibilities of offering financial support to build such platforms.
The World Economic Forum reached its influential position because it has been developed for more than four decades. The China Development Forum, the Bo'ao Forum and the Summer Davos are held every March, April and September, but they only focus on China or regional agendas. But since the Chinese leadership aims to offer more global solutions to maintain peace and development across the world, China has to offer more platforms to produce thoughts that will have a global impact.
Moreover, China should host more global and regional conferences. Geneva, apart from New York, is an excellent example for Beijing, Shanghai and other Chinese cities to follow. In this regard, the establishment of the Shanghai Cooperation Organization's Secretariat and the Asian Infrastructure Investment Bank's headquarters in Beijing, and the BRICS New Development Bank's headquarters in Shanghai are welcome developments, because they will help strengthen China's soft power. Still, China has to make more efforts to play the global role that matches its economic power.
The author is China Daily chief correspondent in Brussels.
fujing@chinadaily.com.cn