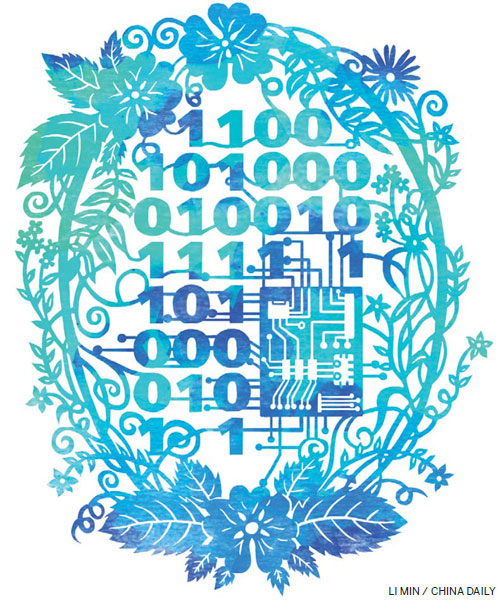 Chinese policymakers have not only integrated the various dimensions of geopolitics, but also rightly paid great attention to the rapidly evolving domain of cyber-politics. And by almost exclusively focusing on what it perceives as the limitations and imperfections of the Internet in China, the West has not yet fully realized the significance of the Chinese digital transformation. At the intersection of China's global projection and of its quest for innovation, digital China is one of the most significant stories of our time.
China is currently in a quest for relevance, from biotech to the Internet, and from nanotech to aeronautics and space exploration. More generally, the ambition not to be a passive spectator in the West-led globalization but to stand as a source of modernity is one of the defining elements of the Chinese "renaissance". China may have missed the Industrial Revolution, but it is a co-architect of the Information Age.
Cyberspace, like the post-World War II system of international relations, is bipolar, not structured around Washington and Moscow, but articulated around the United States and China. The current digital bipolarity is reflected in the competition between Internet companies: Google, Twitter, YouTube, Amazon, eBay, Uber, Expedia and Apple Pay are the icons of digital US while Baidu, Tencent's WeChat, Youku, JD.com, Alibaba, DidiKuaidi, Ctrip and Alipay symbolize China's cyberspace. In a sense, global cyberspace is a tale of two Internets.
Today, the two top languages of the World Wide Web are English (851 million users) and Chinese (704 million users), but with the rising penetration of the Internet in China (around 50 percent Internet penetration in China against 87 percent in the US), Mandarin might be soon the Internet's No 1 language.
Some would argue that despite the quantitative dimension of the Internet, China has been qualitatively a mere follower of the Silicon Valley. However, by choosing to protect the development of its giants, China has not only been able to narrow the gap very aptly, but also its existing digital ecosystem puts it in a position to genuinely innovate in the infrastructure and the systems of cyberspace.
The European Union, however, finds it satisfying to be the user of tools developed by American companies even if such dependence is an incredible long-term weakness from a commercial and security perspective.