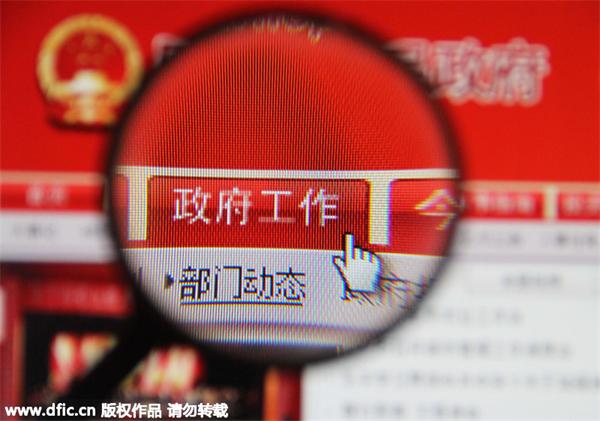 The website of a Chinese county-level government. [Photo/IC]
A spate of senior officials' resignations hit the headlines recently, making people inquisitive about their motives. One of them was Ye Zhaohui who resigned as deputy mayor of Zhuji, a prosperous city in East China's Zhejiang province.
The 40-year-old quit less than a year after being promoted as deputy mayor in July 2013. And after the local legislature finally accepted his resignation, Ye told the media that he would start his own e-commerce business, which he became familiar with during his stint in office.
The reason why his resignation made the headlines is understandable. As a senior official at a young age, he had a better chance of being promoted to a much higher position than other people, and by resigning he has lost the social status, welfare and privileges that come with the post of a senior official.
For years, getting a government job was similar to holding an "iron rice bowl", meaning guaranteed job security, steady income and benefits. And even though three decades of rapid economic development has opened many new avenues for people to earn handsome salaries, government jobs are still a major draw for many in China. Nearly 1.4 million candidates registered for this year's public servants' examination, vying for 270,000 positions.
In spite of this, low pay is the main reason why senior officials are resigning, according to some media outlets. Another major reason, they say, could be the current anti-corruption campaign and austerity measures, which have greatly reduced the gray income and invisible welfare of public servants.
Mei Yonghong, former mayor of Jining city in East China's Shandong province, who resigned last year, told the media that his salary was 7,000 yuan ($1,090) a month with everything added, which was less than even the per capita GDP of the city.
But why should a person join the government if he/she wants to be rich? As a government official, isn't his/her bounden duty to serve the people?
As the media say, most of the senior officials who have resigned are technocrats, who can better use their special knowledge and skills outside the government. For instance, Mei, who graduated from an agriculture university and had extensive working experience at the Ministry of Science and Technology, became a senior executive of a gene-technology company in Shenzhen, Guangdong province.
In this sense, the senior officials' decision to choose a different career path can help optimize the use of social and human resources to invigorate economic development. Still, the higher authorities should allow such officials to quit only after taking certain measures.
The accounts of resigning officials, especially the senior ones, and their departments should be thoroughly audited - and their activities investigated - before allowing them to leave. This will prevent corrupt officials from escaping punishment.
Also, despite rules prohibiting public servants from working in related fields after resigning, many former officials have taken advantage of the lack of a clear definition of what these "related fields" are and joined companies operating in similar areas to earn handsome incomes. Most of the former senior officials have immediately become high-ranking executives of big companies. That is because, despite losing their official powers, they retain their guanxi, or connections, after working for years as government officials, and these connections are sometimes their most valuable assets that they use to get things done by finding the "right people".
Therefore, a more detailed set of rules, including harsh punishment, should be put in place to ensure that officials don't use the experience and knowledge they gather as public servants to help private companies make money and/or escape punishment for any corruption they might be involved in.
The writer is an editor at China Daily.
lifangchao@chinadaily.com.cn