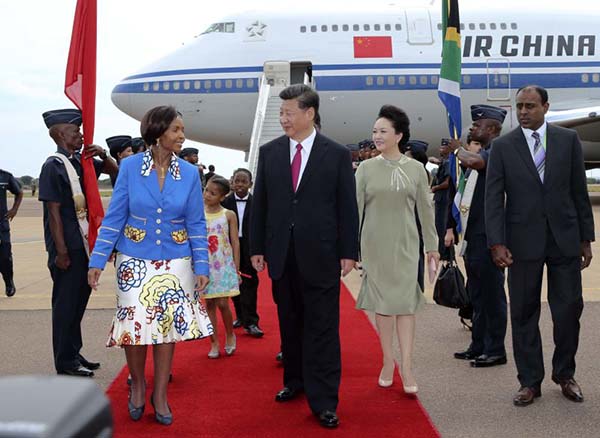 Chinese President Xi Jinping (2nd L, front) and his wife Peng Liyuan (2nd R, front) are welcomed by South Africa's International Relations and Cooperation Minister Maite Nkoana-Mashabane upon their arrival in Pretoria, South Africa, Dec 2, 2015. Xi arrived here on Wednesday for a state visit to South Africa. [Photo/Xinhua]
China has always regarded Africa as a place of opportunity rather than a source of problems. It has courted African governments as political allies since the foundation of the People's Republic. Unlike the West whose aid was centered on technical and financial assistance, China uses a different approach.
China has been eager to use infrastructure projects to facilitate connectivity between the landlocked countries and coastal areas in Africa, with the aim of fostering the same kind of local and regional economic development that China has seen since the 1980s. And now that its economic growth has slowed, China needs to seek new overseas markets and consumers. With its foreign exchange reserves of $3.65 trillion, China has led the establishment of a number of financial institutions such as the Silk Road Fund, the BRICS New Development Bank and the Asian Infrastructure Investment Bank to finance these infrastructure projects.
China's focus on the 21st Century Maritime Silk Road for infrastructure development is also a response to its severe overcapacity in the construction and manufacturing sectors. According to the State Council, China's Cabinet, Africa is already China's second-largest overseas construction site. Under the new Maritime Silk Road project, China will leverage its comparative advantage in construction and material surplus, and allow more State-owned enterprises to go global.
One of China's major interests is to expand its trade with Africa and consolidate its position as one of Africa's strategic trading partners. In 2009, China overtook the United States as Africa's largest trading partner, and the China-Africa trade volume reached a record $200 billion in 2013.
With its domestic market shrinking because of demographic trends and the ever-maturing Western markets, China is keen to tap into Africa's burgeoning consumer markets. According to McKinsey, Africa will account for one-fifth of the global population by 2025, more Africans will emerge out of poverty and almost "two-thirds of the estimated 303 million African households will have discretionary income". The connectivity by road, rail, waterways and air, as well as digital links will also accelerate industrial efficiency and productivity. They will also identify new market opportunities for China's rising brands such as Haier and Huawei in Africa.