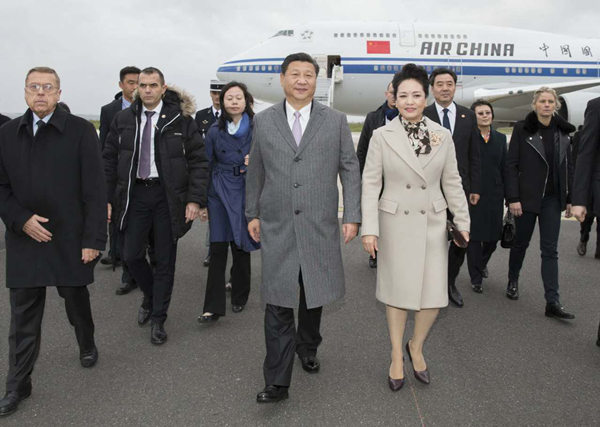 Chinese President Xi Jinping, accompanied by his wife Peng Liyuan, arrives in Paris, capital of France, to attend the opening ceremony of an international conference on climate change on November 29, 2015. HUANG JINGWEN / XINHUA
As global leaders gather in Paris on Monday to start critical talks on managing the world's carbon budget in the post-2020 period, UN General-Secretary Ban Ki-moon has called for urgent worldwide action to deliver sustainable development.
In an article for China Daily's European edition, titled "This grandfather's hopes for the planet", the UN chief wrote, "I want my grandchildren to enjoy the beauty and bounty of a healthy planet. And like any human being, it grieves me to see that floods, droughts and wild fires are getting worse, that island nations will disappear and uncounted species will become extinct."
While, Ban is concerned about the environmental crisis threatening humans, I am worried about the possibility of a terrorist attack in the Belgian capital. Next to Ban's article was one of mine titled "This father's hopes for son's safety in his city".
Europe is known for its peace project of regional integration and contributions to the global governance regime in the face of different challenges. And the recent G20 summit in Antalya, Turkey, focused on making the world a better place in terms of economic growth, financial regime and sustainability governance.
But this planned process has been interrupted again and again.
On the eve of G20 summit, a series of terrorist attacks took place in Paris, the repercussions of which are still unfolding in France, and in other parts of Europe. And even as Europeans worried about the possibility of further attacks in other cities, Turkey shot down a Russian plane, which was fighting against Islamic State militants in Syria, adding further uncertainties to the situation in the Middle East.
The terrorist attacks in Paris, which provoked France into announcing it was at war with the IS group, and the escalating tensions surrounding Syria, along with the recent muscle-showing deployment of US naval might in South China Sea, have increased the concerns not only of people in Europe, but around the world.