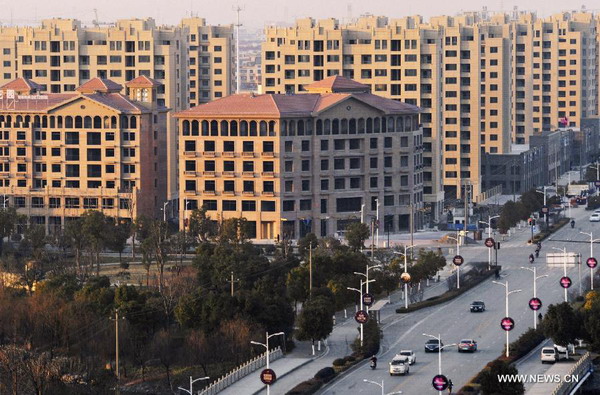 Photo taken on Jan 1, 2015 shows an apartment project in Huzhou, East China's Zhejiang province. [Photo/Xinhua]
The growing overstock in China's property market certainly calls for immediate policy support to prevent the cooling real estate sector from becoming too heavy a drag on the Chinese economy.
However, Chinese policymakers should also make clear that real-estate investment will no longer continue to be a leading driver of economic growth.
Although China's ongoing urbanization provides ample room for steady growth of the once all-important property sector in coming years, it is both unnecessary and undesirable for the country to keep relying excessively on real-estate investment growth when Chinese consumers are showing more potential than ever to be a key growth engine.
After the downturn in 2014, the cooling of China's property market has continued in 2015, with both sales and prices falling and investment slowing.
Latest statistics show that the country's property investment grew by only 2 percent year-on-year in the first 10 months of this year, the slowest pace since the 2008 global financial crisis. More alarmingly, new housing construction stood at 1.27 billion square meters, down almost 14 percent year-on-year.
Such slumping investment in new houses is largely a result of the surge in unsold homes, the floor area of which hit a record high by the end of October, up more than 50 percent from October two years ago.
This is the result of the relatively strict controls over house purchases in a few top Chinese cities, which already rank among those with the highest property prices around the world, as well as sluggish demand in other cities.
Policymakers have cut interest rates six times in a year to help property developers battle the cooling economy. But more government support may be needed to quickly arrest the sharp deceleration in real-estate investment which, in turn, could exacerbate the slowdown of the overall economy.
Yet the expedient measures to stabilize the development of the real estate sector should not amount to backpedalling on the transformation of China's growth model from investment-led growth toward consumption - and innovation-driven growth.
Alibaba, China's leading e-commerce company, reported record sales of 91.22 billion yuan ($14.33 billion) from the Singles Day online shopping gala. The nearly 60 percent volume rise on last year's record figure speaks volumes about the potential of domestic consumption, which deserves more government support than it has so far received.