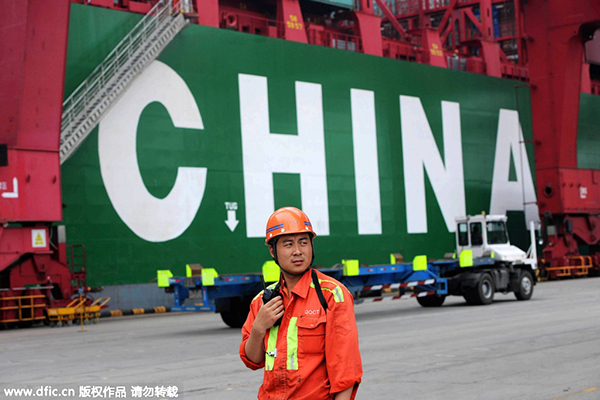 A stevedore works at Qingdao port in Shandong province, July 1, 2015. [Photo/IC]
Continued downward pressures from real estate and exports caused GDP growth to drop to 6.9% in Q3. But robust consumption and infrastructure prevented a sharper slowdown, although concerns about the data will persist.
Despite policy easing already undertaken, we think overall growth will soften more into 2016, with the demand trends broadly as in 2015. In such a setting we expect more incremental monetary and fiscal measures.
In Q3 the property slump and export weakness contained industrial sales and profit margins and lifted spare capacity, particularly in heavy industry. As a result, manufacturing FAI momentum remained weak. Infrastructure FAI held up pace, reflecting its key role as policy lever. Nonetheless, overall FAI growth remained depressed in Q3 and industrial production growth fell further, especially in heavy industry.
Consumption continued to function as the key cushion, preventing a sharper overall slowdown. Urban labor demand growth has slowed down. But, as the demand-supply situation continues to be favorable to workers, wage growth remains robust, supporting consumption.
Solid consumption supports light industry and, especially services. Indeed, service sector GDP growth continued to diverge from industrial GDP growth in Q3, even though the contribution of the financial sector declined significantly.
We expect the investment and consumption momentum trends noted above to broadly continue into 2016, with real estate remaining a drag on growth and consumption relatively robust. The acceleration of macro policy easing in Q3 – visible in stronger credit growth – should dampen the slowdown in GDP growth in Q4.
But we expect consumption growth to ease into 2016 on the back of slowing wage growth. Overall, we now expect GDP growth of 6.9% in 2015 and 6.3% in 2016.
Risks remain substantial. Internationally, the key ones are monetary and exchange rate upheaval and weaker global trade growth. In China itself, the risk of an even sharper real estate downturn and a material slowdown in infrastructure have eased. However, the risk of a spill-over of the weakness in industry onto consumption is rising. Such spill-over would take place via channels such as the labor market and confidence.
In this setting, we expect the government to continue to take additional incremental measures to ensure that growth does not deviate too much from its targets, but without going for major stimulus.
We expect these measures to focus largely on shoring up domestic demand, with probably gradually a greater role for fiscal policy steps outside the infrastructure domain. If downward pressures were to intensify, we expect more forceful measures.
The author is head of Asia economics at Oxford Economics