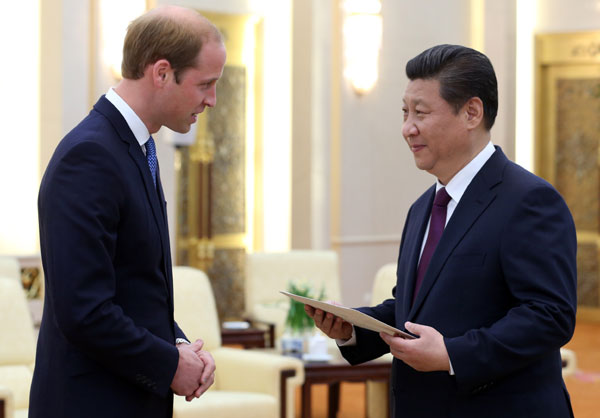 Britain's Prince William presents President Xi Jinping (R) with a large envelope containing an invitation from the queen to visit Britain this year at the Great Hall of the People in Beijing March 2, 2015.[Photo/asianewsphoto]
As China has emerged as a significant economic and military power on the world stage, it is set to become the third-biggest contributor to the United Nations behind Britain and France, and has announced a dramatic rise in its manpower contribution to UN peacekeeping operations.
President Xi Jinping pledged a $1 billion donation to the UN for peace and development and $100 million for the African Union to help its own peacekeeping efforts. And a permanent standby force of 8,000 personnel is to be set up for UN peacekeeping operations, he said during his speech to the UN General Assembly late last month.
In addition, China will start training 5,000 potential peacekeepers from other member states.
This, say observers, is the most concrete sign yet that China, now the world's second-largest economy, is taking its rightful place in the world order.
Xi himself is spearheading China's diplomatic offensive. A state visit to the United States last month was just the latest in a dizzying list of foreign visits since he became president in March 2013.
His state visit to Britain on Oct 20 to 23 will once again prove his determination to project an image abroad of a strong, resolute China.
That's backed by a sustained campaign against corruption at home, and backing for economic reforms, whilst at the same time reinforcing respect for the Party and the rule of law.
So how do China's partners on the world stage view this?
I think it's fair to say Xi won a few more friends in the US during his visit, but there's still lingering suspicion in political and business circles there, something that has previously meant the efforts by some Chinese companies to expand their businesses in the US have been blocked.