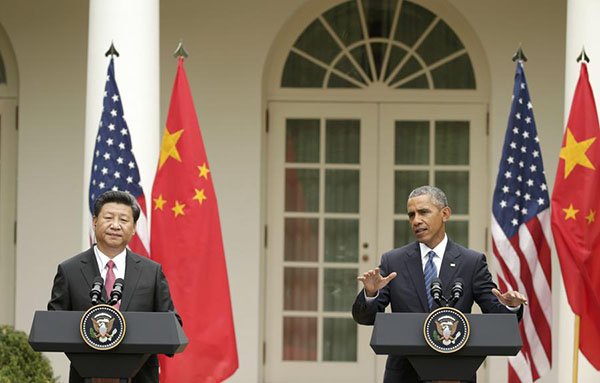 US President Barack Obama (R) and Chinese President Xi Jinping hold a joint news conference in the Rose Garden at the White House in Washington, September 25, 2015. [Photo/Agencies]
The annexes of two military agreements, one on "notification of military crisis" and the other on "encounters in the air", were among the 49 outcomes of President Xi Jinping's state visit to the United States. The documents are the fruits of the two countries' continuous efforts to build a healthy military-to-military relationship and deepen strategic mutual trust.
The annexes were signed as part of "two mutual trust mechanisms", which refer to a reporting system on major military operations and a code of safe conduct on naval and air force encounters.
The groundbreaking "two mutual trust mechanisms" were proposed by Xi during his meeting with US President Barack Obama in Sunnylands, California, in June 2013. During Obama's visit to China in November 2014, the two countries signed two Memorandums of Understanding on Confidence Building Measures.
The fact that the two memorandums are largely principle-based makes the two annexes more substantial and applicable. According to the Ministry of National Defense, the "encounters in the air" annex clarifies rules, including those on ensuring safe flying, exercising fundamental liaison and communication, announcing designated danger or warning zones, and coordinating efforts at the scene of emergencies.
The annex on "notification of military crisis" is aimed at regulating mutual notification of a military crisis by using the telephone hotline between the two defense ministries.
These efforts show Beijing and Washington have taken a significant step toward institutionalizing measures to prevent a military crisis and/or conflict, which is an important part of a comprehensive mutual trust mechanism between the two militaries.
"Differences in values and strategic goals should not prevent Beijing and Washington from having sufficient and effective communications at the military-to-military level", said Zhou Bo, director of International Cooperation Center of the Foreign Affairs Office under the Ministry of National Defense. "The two annexes pave the way for the two militaries to fend off potential risks through practical measures. As proven in many cases in history, mutually recognized code of conduct could indeed help in avoiding misunderstanding or even miscalculations," he said.
With the People's Liberation Army growing stronger and stepping up efforts to better safeguard Chinese territories and growing interests overseas, chances of encounters, sometimes dangerous ones, between Chinese and American defense vessels and/or aircraft in the Asia-Pacific region have increased in recent years.
On May 20, a US spy plane flew over some of China's islands and reefs in the South China Sea where China is carrying out reclamation work. China condemned the provocative US action, saying it was "dangerous and irresponsible".
And in August 2014, a Chinese J-11B fighter jet and an American P-8 surveillance plane were involved in a dangerous near miss over the South China Sea.
Such incidents could lead to misunderstanding and misjudgment. Worse, they could evolve into a conflict casting a shadow over the overall relationship between China and the US.
With Beijing and Washington working together to better coordinate their militaries in times of major crises and lay down rules to deal with naval and air force encounters, strategic miscalculation and distrust can be mitigated.
This development is welcome because it will not only help build a new type of military-to-military relationship between the two countries, but also promote peace and stability in the Asia-Pacific region.
Yet it is too early to say that the road ahead for further deepening strategic mutual trust will be smooth. After all, what has been agreed upon between the two militaries is largely tactical.
More dialogue and coordination are needed at the strategic level, which would be possible only if Washington deems Beijing as a competitive partner, not a rival challenging its superpower status in the region and beyond.
The author is a senior writer with China Daily. wanghui@chinadaily.com.cn