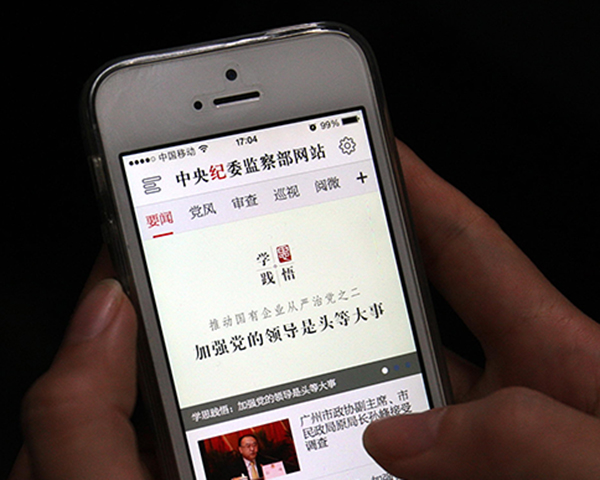 The free app of the Central Commission for Discipline Inspection, is available in Apple's App Store and in various Android stores, as well as on the commission's website. The app makes it easier for anyone to submit tipoffs about suspected corruption. [Photo/China Daily]
An official of the Institute of Agricultural Sciences in Wuhan, Central China's Hubei province, reportedly burned the evidence proving the existence of a private fund owned by an affiliated company after he was informed beforehand about audit. He and some of his colleagues involved in the act have been expelled from the Party, the local discipline inspection authorities said. Comments:
The government has more than once taken tough measures to stop the illegal use of public funds in the hope of putting an end to the private funds in some departments. It is a "miracle" that the Wuhan agricultural company's slush fund account not only survived the crackdown, but also "turned" into ashes before an unheralded audit. Everybody involved should be punished according to the law in order to deter potential offenders from indulging in similar activities.
rednet.cn, Sept 29
Given the hidden hierarchy in China's officialdom-based corruption, small coffers, to a certain extent, belong to seniors with higher administrative rankings. So to curb such misappropriation of public money, all civil servants should be required to bear due responsibilities in accordance with the powers they wield and put under stricter supervision.
china.com.cn, Sept 28
The long existence of private coffers has allowed some officials to enjoy an extravagant life with public funds, leading to corruption and economic crimes. The lack of fiscal supervision and a foolproof accountability mechanism is to blame for the chaos in China's officialdom.
hebei.com.cn, Sept 28
Although the Wuhan official managed to destroy the evidence of his and his collogues' misdeeds, the fact that he and his colleagues have seriously violated Party discipline and relevant laws is irrefutable. Their punishments should be doubled if they try to trick the inspection authorities any further. Indeed, the absence of key account records could make it difficult for the inspectors to carry on their investigation, which requires them to dig out all embedded misdemeanors in the case with exceptional intelligence.
jxnews.com.cn, Sept 28