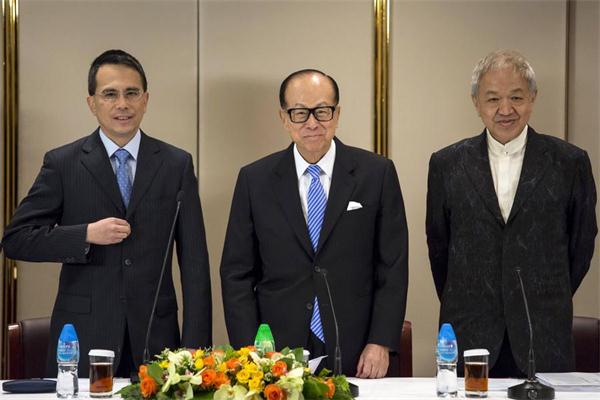 Hong Kong tycoon Li Ka-shing (C), his son Victor Li Tzar-kuoi and managing director of Hutchison Whampoa Canning Fok (R) attend a news conference in Hong Kong January 9, 2015.[Photo/Agencies]
Given his influence in the economic realm, especially on Chinese, any move made by Hong Kong tycoon Li Ka-shing is seen as a precursor to a future economic trend.
This could explain why a plan by Li's Cheung Kong to sell its real estate in Shanghai for 20 billion yuan ($3.14 billion) has created ripples across a broad swathe on the Chinese mainland.
This is the latest in a series of property sales on the mainland and purchases in the rest of the world by Li's companies. And many see this as part of his efforts to reshuffle assets in his business empire.
In January, Li announced a plan to buy the United Kingdom phone giant O2, which came after the purchase of the Eversholt Rail Group in the UK, which owns 28 percent of the country's passenger trains.
Li's business maneuvers do not end there, because he has also transferred the registration of his Cheung Kong and Hutchison Whampoa to the Cayman Islands, a tax-exempt destination and British Overseas Territory in the western Caribbean Sea.
Some interpret Li's seemingly planned curtailing of his economic presence on the mainland as his pessimism toward the mainland's economic prospects.
Others say that since Li's empire has benefited a lot from the mainland's preferential policies, he has the political and social responsibility to help improve the mainland's economy at a time when it faces the worst slowdown in decades.
Many others, however, have posted online messages, calling for measures to block Li's potential withdrawal from the mainland.
But there is no need to over-interpret Li's asset sales on the mainland, because business decisions are not based on political and moral considerations.
With an inherent acumen to capitalize on every possible business opportunity, any tycoon with a global vision like Li will change his or her projects according to the changing circumstances. Therefore, it should not come as a surprise to anyone if Li has indeed decided to shrink his economic presence on the mainland and shift his focus to other places.
Besides, the withdrawal of one Li will not stop more Lis from pursuing their economic goals on the mainland if it develops a more tempting economic and institutional environment.