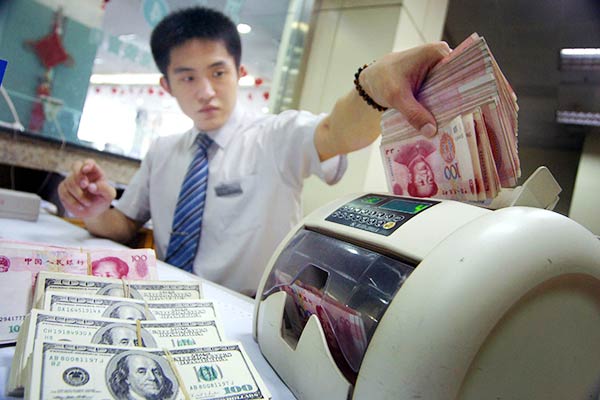 The People's Bank of China cut the reference rate against the US dollar to 6.2298 yuan per dollar on Aug 11, down from 6.1162 yuan a day earlier, the lowest level in more than two years.[Photo provided to China Daily]
In his inaugural address of 1933, Franklin D. Roosevelt famously said that, "the only thing we have to fear is fear itself". Those words provide guidance to the upcoming summit between Chinese President Xi Jinping and his US counterpart Barack Obama, which takes place under deepening economic challenges.
In the US, the concern is that China's exchange rate adjustment could trigger a global currency war. In China, the concern is that the US Federal Reserve's impending rate hikes could trigger detrimental capital outflows.
On Aug 11, the People's Bank of China made a change to the central parity of the renminbi against the US dollar to better reflect market conditions. The net effect was a depreciation of 1.9 percent relative to the US dollar. After a decade, the renminbi, unlike the BRIC currencies, had appreciated 30 percent against the US dollar. A re-adjustment was required; depreciation was its side effect.
Nevertheless, many US observers saw the PBoC's decision as a signal that China's deceleration is worse than anticipated. And yet, in the medium term, China's rebalancing is proceeding as anticipated, as the International Monetary Fund has acknowledged. In the near term, that does mean growth deceleration and occasional market volatility.
Other US observers argued that the devaluation may initiate new phase in global currency war. In reality, currency frictions escalated already in 2009-10 after advanced economies cut their interest rates close to zero, while launching rounds of quantitative easing. Recently, these frictions have been amplified by the strengthening of the US dollar, the fall of the euro, and the plunge of the dollar-denominated commodity markets.
Still others alleged Beijing planned to use its cheaper currency to jumpstart exports and growth. But that makes no sense in the light of China's ongoing rebalancing away from net exports and investment. Any real effort to boost export-led growth would require at least 15-30 percent depreciation; 2 percent is grossly inadequate for the purpose.
Finally, some observers saw the PBoC's decision as an effort to comply with the IMF's conditions to include the renminbi in the Special Drawing Rights reserve currency basket. This move toward a more market-determined rate is well aligned with China's policies and precisely what the IMF and the US Treasury have been asking for.
That's not exactly a portrait of a country intent on causing havoc in global currency markets.