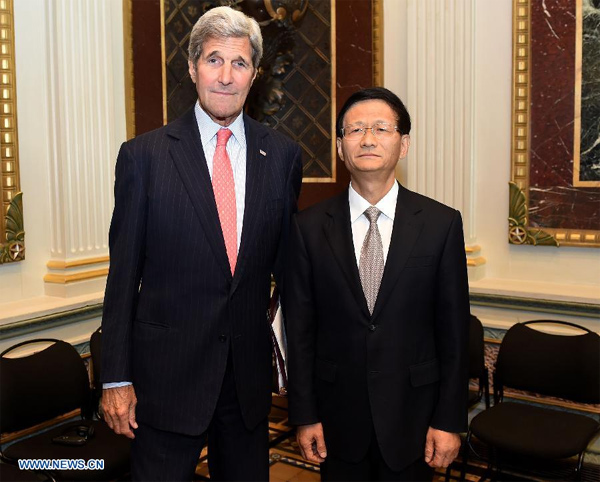 President Xi Jinping's special envoy Meng Jianzhu, a member of the Political Bureau of the Central Committee of the Communist Party of China (CPC) and head of the Commission for Political and Legal Affairs of the CPC Central Committee meets with U.S. Secretary of State John Kerry, in Washington D.C., capital of the United States, Sept. 11, 2015. China and the United States have reached important consensus on combating cyber crimes. [Photo/Xinhua]
If Americans focus on Chinese activities in the South China Sea, cyberspace and the currency markets during the upcoming state visit of President Xi Jinping to the United States, they will be mistaking the urgent for the important. This summit should be about what is important: the health of the global economy and successful management of the inevitable frictions between the two largest economies.
The Barack Obama administration is perceived as weak in its response to developments in the South China Sea (and elsewhere) over the past few years. Officials have complained endlessly, but done little. This has created the false impression that the tiny islands there are at the center of US-China relations, whereas they are just one among many arenas in the Asia-Pacific region where China's growing capabilities are bumping up against a security framework that has never had to accommodate Chinese interests before.
The real challenge for Washington is to find a way to engage Beijing while building on the success of the alliance arrangements that have prevailed in the region since World War II. These have largely brought peace and prosperity to the region, including to China, while avoiding crippling arms races among Asia's heterogeneous nations.
China's losses to imperialism and its self-imposed isolation are over, as exemplified by the military parade marking the end of WWII in Beijing on Sept 3, and its security needs will have to be channeled in constructive directions by a new regional security vision. The leaders need to talk candidly about the responsibilities of both capitals to achieve that.
Cyberspace poses vexing issues, both of policy comprehension and management. The revelations by former National Security Agency operative Edward Snowden and Wikileaks have undercut Obama's efforts to distinguish between legitimate intelligence collection and off-limits commercial theft. Americans felt the intrusion into their personnel files and accounting data very personally and want their government to protect them.