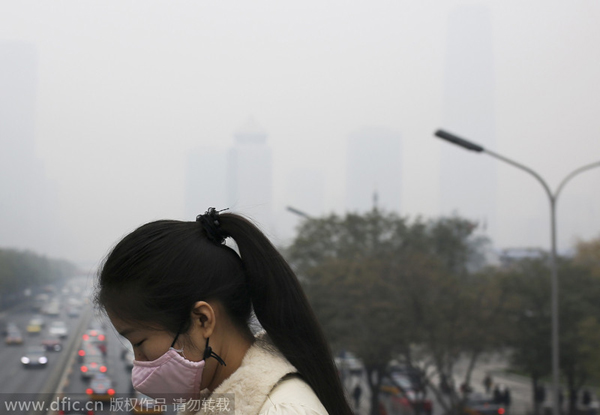 A woman wearing a mask to protect herself from pollutants walks on a pedestrian overhead bridge during a hazy day in Beijing on Nov. 19, 2014. [Photo/IC]
After years of dealing with smog, it has become an extensive consensus in most of China's regions stricken with air pollution that reducing the use of government and private vehicles and encouraging the use of public transport and other greener means of travel are effective ways to curb haze.
However, a recent move by the local authorities in Nanhe county, in Xingtai, Hebei province, reveals the lack of such basic common sense among some decision-makers.
To reduce air pollution, the local government recently decided not to impose any restrictions on government vehicles and private cars, while restricting the use of public buses in downtown areas. This restriction has caused great inconvenience to local residents without a car and thus fueled a sense of grievance among them.
In response to a public query, local officials argued that the ban was on diesel-powered buses and in banning the buses they aimed to encourage residents to commute by bike or on foot. However, the fact is that many gas-powered buses are also prohibited from entering the county's main urban districts, according to local residents.
Given that Xingtai is among the country's most seriously-polluted regions, practical measures aimed at reducing air pollution are indeed necessary and in the public's interest. However, measures of such kind should be based on rational thinking to the benefit of ordinary residents.
Nanhe 's practice does the opposite of the what is needed to reduce smog and in fact is likely to make it worse as it encourages people who would previously have used buses to buy private cars to meet their travel needs. More private cars will increase exhaust gas emissions and deteriorate the already-fragile environment. The ridiculous ban is simply a reflection of Nanhe's decision-makers' reluctance to introduce the necessary measures to curb air pollution.