Events marking China's WWII victory show a constructive shift in treatment of Taiwan question
Someone once said that analyzing international relations is a bit like plucking straws out of the wind to build the roof over one's head - slow, painstaking but ultimately satisfying. And that's the case with the Chinese mainland and Taiwan, a relic of the Chinese civil war that ended in victory for Mao Zedong's forces in 1949.
However, the recent celebrations marking the 70th anniversary of the end of World War II have marked a new assessment of China's role in the global conflict, until recently largely forgotten as the UK and US focused on their respective campaigns against Japan's ill-fated Greater Asia Co-Prosperity Sphere, in reality a front for Japanese domination of its Asian neighbors.
One by-product of that new assessment of China's role is an apparent subtle change in Beijing's approach to Taiwan, which it officially regards as an inseparable part of China. Taiwan styles itself the Republic of China but it has limited official recognition and Beijing holds China's seat on the United Nations Security Council.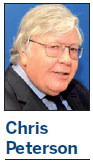 For years Beijing made it clear it would reunite with Taiwan, by force if necessary - people of my generation vividly remember each side shelling the other across the Taiwan Straits in the 1950s, with the population of Jinmen, also known as Quemoy, constantly living underground.
Taiwan has not made the ideological retaking of the Chinese mainland a political or practical goal since 1992, and while Beijing has no intention of recognizing Taiwan or giving up its claim on the territory, it has in recent years followed a policy of attempting reunification through peaceful means.
So what are these straws in the wind?
The new assessment of China's role in World War II has meant a softening in Beijing's approach to the Kuomintang, the party once led by Chiang Kai-Shek which eventually lost the Chinese civil war to the communist forces in 1949.
For the first time, Lien Chan, honorary president of the Kuomintang, which is now a leading political party in Taiwan, attended Beijing's celebrations marking the end of World War II, along with some 300 veterans of the conflict, including former Kuomintang soldiers. They took part in the huge military parade staged on Sept 3 to mark the end of the war.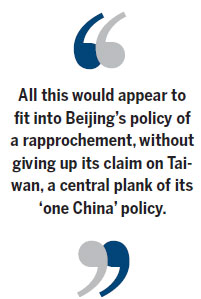 There are other signs too, that attitudes are softening. Official media have taken to pointedly remarking that the war against Japan was fought by the whole Chinese nation, giving equal credit to the millions of Kuomintang soldiers who fought, and died, alongside Mao's forces.
Many historians now accept that Mao's forces, estimated at about 1.4 million by the end of the war, fought a mainly conventional campaign with Chiang Kai-Shek's estimated 4 million or so troops staging more conventional battles against the Japanese invaders.
All this would appear to fit into Beijing's policy of a rapprochement, without giving up its claim on Taiwan, a central plank of its "one China" policy.
Taiwan, for its part, seems to be observing a diplomatic truce with Beijing, and relations with the mainland have certainly improved in recent years.
Economic ties have strengthened - China is now a member of the World Trade Organization, and Taiwan joined soon after as Chinese Taipei. The Chinese mainland is Taiwan's largest trading partner, and Taipei is among the top 10 of the mainland's trading partners as its economy continues to grow.
The straws, it seems, are still blowing in the wind.
The author is managing editor of China Daily Europe, based in London. Contact the writer at chris@mail.chinadailyuk.com