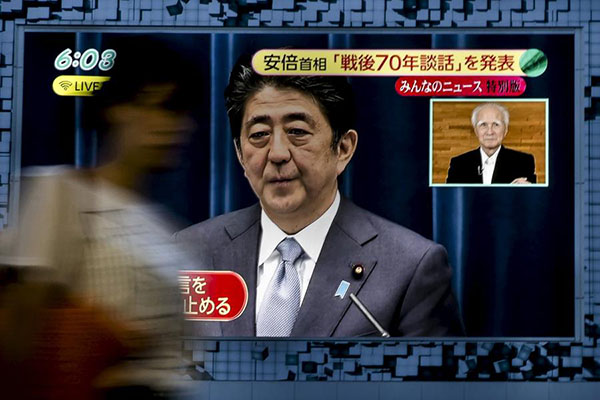 A woman walks past a screen showing Japan's Prime Minister Shinzo Abe delivering a statement marking the 70th anniversary of World War II's end in Tokyo, August 14, 2015. [Photo/Agencies]
Although it refused to send a representative to Beijing to attend the events to commemorate the 70th anniversary of the victory of Chinese People's War of Resistance against Japanese Aggression (1937-45), Japan has been issuing some weird statements.
On Sept 3, the day China held the commemorative events, Japan's top government spokesman Yoshihide Suga said: "China should not excessively focus on its unfortunate past history, but show its intention to tackle common issues facing the international community with a view to the future".
Likewise, he urged UN Secretary-General Ban Ki-moon to "take a neutral position on events that focus mostly on the past" before the world leader landed in Beijing. Republic of Korea President Park Geun-hye, too, was targeted by Japan's right-wing newspaper Sankei Shimbun for joining Ban in China.
To a certain extent, it is strangely "impressive" of Tokyo to pass such groundless comments. Founded in 1945, during the later stage of World War II, to establish peace and the postwar world order, the UN is an "impartial, multilateral" body rather than a "neutral" one, as Ban made it clear on Sept 4. Besides, the UN Charter says regional powers can take effective measures to contain a former defeated nation should it seek remilitarization.
Japan's wild accusations against Ban and misinterpretation of the UN's impartiality are not only baseless but also naïve. The deliberate misreading has a lot to do with the fact that Japan is yet to break free of its militaristic past.
Some Japanese right-wingers still believe that the war Japan waged before and during WWII was not aggression, but a necessary response to the intrusive policies and acts of the United States, the United Kingdom, China and the Netherlands. In their eyes, the "righteous" war was about liberating Asian people from Western colonialism, not about colonizing them instead.
That explains why some right-leaning Japanese leaders such as Prime Minister Shinzo Abe tend to criticize countries that seek to unveil Japan's militaristic past and colonial aggression, or even commemorate the victory in WWII. Their refusal to face up to Japan's sordid past makes them defenders of militarism. No wonder, they cannot understand the irony in their arguments when they claim to be leaders of a country that respects liberty, democracy and the rule of law. This self-deceit of the Abe administration will pose a grave challenge to the next Japanese governments, for they will find it more difficult to make a clean break with Japan's militaristic past and remove its infamous tag as a brutal colonial power.
Japan's modern image might be seriously tarnished if the government fails to settle the historical issue, especially when a solution is within easy reach. But by likening the China-Japan relationship to the one between Germany and Britain before World War I, Abe took a step in the wrong direction. Instead of forging a far-fetched connection between China and prewar Germany, Japan should heed a lesson or two from what its former fascist ally in Europe did to reconcile with its WWII victims in the postwar years.
Unlike Japan which often ties itself up in diplomatic dilemmas and sovereignty-related disputes with neighboring China, the ROK and even Russia, Germany has done everything to rebrand itself as a peace-loving nation that has nothing in common with a country under the Nazi rule.
So are Japan's neighbors wrong in challenging its historical outlook? Highly unlikely. Japanese right-wing politicians should reflect on their lack of knowledge of history, because that is what made them comment on the UN's "neutrality". If they continue to do so and remain in power, Japan will keep struggling to get rid of the ugly tag and cannot reconcile with its neighbors, that is, if it truly wants to.
The author is a professor of Japan studies at China Foreign Affairs University.