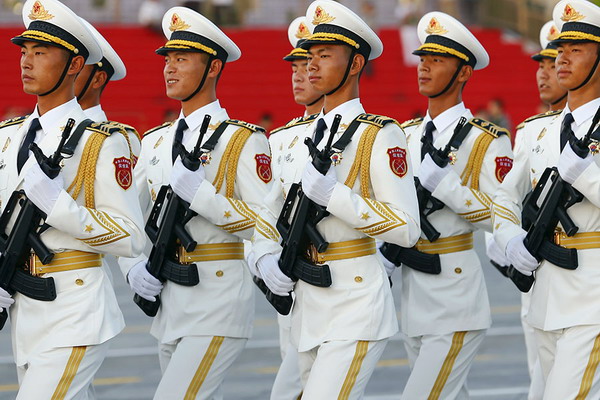 Soldiers of PLA march in formation past the Tian'anmen Square before a military parade to mark the 70th anniversary of the end of World War Two in Beijing. [Photo/Agencies] 
I grew up watching the Military Parade, which is an essential part of National Day celebrations in China. This year, the Military Parade is being used to commemorate the 70th anniversary of the Chinese victory in the the World Anti-Fascist War.
Seventy years have passed in a flash. The post 80s generation live, for the most part, in a happy peaceful era. But even so, I feel so indignant at the injustice and couldn't stop wondering that what it would be like if our forefathers had failed to escape from the vicissitudes of life. The brutal invasion on Chinese people by Japanese forces can now only to be seen in movies or historical museums.
Many of my friends tell me that they only now realize how much they've come to love China. This is exactly how I feel. Being abroad doesn't stop me from realizing what my motherland means to me. In fact, being abroad helps me understand the importance of 'national sovereignty' to the normal life of a person.
The Military Parade had a shocking effect on me because it shows us a strong China. A China that is capable of providing its nationals a safe and stable environment. It guarantees them a peaceful life. It means to us that we don't need to wander from place to place, to endure so many hardships in a precarious states as what our grandparents did. 
For me, it is my most precious treasure to have a great mother country like China. Just take a look at how Africa was divided under the European powers. Take a glimpse at the small countries dependent on the 'super regime', under the so called democracy, the society is so turbulent. And even worse, think about the refugees escaping from the war in the Middle East. Thousands have lost their lives in the sea on their way to Europe every year. I bear sorrow and sympathy for these victims.
I remain so thankful that China has achieved national independence and is strong enough to protect its children while providing a safe and peaceful living space. Sure social problems exist in China, but that doesn't stop its citizens from achieving the Chinese dream.
Judy Zhu from Zurich, Swiss