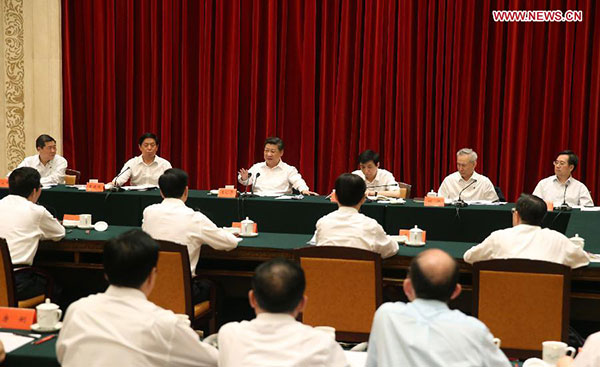 Chinese President Xi Jinping (back, 3rd L) speaks during a discussion with provincial officials after an inspection tour to Jilin from Thursday to Saturday in Changchun, Northeast China's Jilin province, July 17, 2015. Xi has reassured local governments that the economy still enjoys a promising outlook despite downward growth pressure. [Photo/Agencies]
At a recent conference aimed at encouraging efforts for deepened reforms, President Xi Jinping, the head of the central team tasked with leading the country's comprehensive and deepened reforms, stressed the country should work hard to adopt pragmatic measures to meet people's realistic demands.
Given that deviating from this will likely mean China's comprehensive reform program takes the wrong track, such an emphasis points out the correct direction for reforms in the years ahead. Dovetailed reforms that meet people's needs and are based on practical conditions should promote greater equity and improve people's lives.
Any reforms that originate from impractical assumptions will fail to respond to people's concerns. Any reforms failing to meet people's realistic demands will also compromise their fundamental interests and thus will not have their support.
It is not unusual for some well-devised reforms that are not only relevant to people's practical interests but also favorable to long-term social development to be misunderstood for a time. Such reforms should be advanced with efforts made to gain people's understanding and minimize any temporary "negative effects" in order to gain public support over time.
Any reform will mean a redistribution of interests and thus naturally encounter objections and resistance from interest groups. So, prior to any reform measures, in-depth research should be made to ensure the forthcoming measures are in the public's interests, and not just in the interest of a particular interest group.
Any reform not oriented toward satisfying people's practical demands will only divorce decision-makers from the people.
The above is an abridgement of a China Youth Daily article published on Friday.