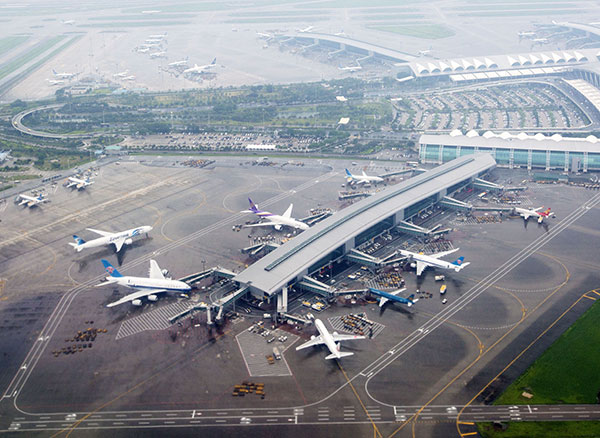 Many flights were delayed because of a rainstorm at Guangzhou Baiyun International Airport in Guangdong province on May 17.[Photo/Xinhua]
There is no place like Tengchong, but the weather in this subtropical city in southwestern Yunnan province can be capricious.
Just minutes after my wife and I arrived to leave from its airport, which is built on a leveled mountain top, the afternoon sky turned from azure blue to dark gray.
In the blink of an eye it started pouring, with thunder rumbling over the surrounding mountains.
The storm could not have hit at a worse time.
It was early August and we were heading back to Beijing after spending half a week in this remote spot close to Myanmar.
We had loved the cool weather (thanks to being at around 2,000 meters above sea level), its slow tempo of life, and the huge expanses of greenery.
Our flight was scheduled for 5 pm, and if everything went smoothly, we would have arrived 50 minutes later in Kunming, the provincial capital, where a flight at 8:30 pm would get us home to the capital by around midnight, just in time for me to return to work the following afternoon.
A well-thought-out plan, if it were not derailed by the sudden change in conditions.
I had in fact taken the weather factor into account when drafting the flight schedule. I knew it was the rainy season in Yunnan and had set aside more than two hours as transit time.
Summer rain usually doesn't last very long, I had thought.
I was wrong, and we were stranded. For more than two hours the rain continued, from downpour to drizzle, as clouds and mist shrouded nearby mountains and wafted over the runway, making it impossible for any aircraft to land. Actually we had to wait for an arriving flight to take us away.
As it became clear we would not make it to Kunming on time to catch our connection flight, we started searching for other possible later flights on our mobiles.
But unfortunately, given it was peak season for travelers, no tickets were available until the following afternoon.
My heart sank as I began to envision all the likely hassles to arise from a delayed flight, such as getting refunds and buying new tickets, as well as the possible disruption at work.
So I joined the small crowd gathered at the counter of my airline, where a woman employee handed me a form. On it she had written, alongside an official stamp, that the delay was caused by bad weather.