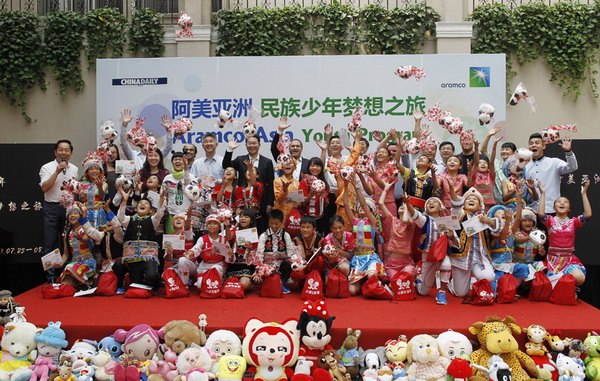 Students from Yunnan pose for a group picture with guests and organizers of the program at China Daily headquarters in Beijing on July 31, 2015. [Photo by Zhu Xingxin/chinadaily.com.cn]
For the group of 30 left-behind children, whose parents work away from home, a trip to Beijing provides them opportunities to see the world outside the mountainous areas where they are living.
Yin Lijiao, a 12-year-old girl of ethnic Dai group, is the girl whom I worked as a partner during the week-long trip. I worked as a volunteer for the Aramco Asia Youth Program, which was launched to give low-income ethnic group children from Southwest China's Yunnan Province a chance to experience lives in the big city of Beijing.
"Yin is such a shy and silent girl who rarely talks to others," said her teacher Yin Guiyan, "she is kind of frightened about strangers."
I felt the teacher was right when I tried to talk with Yin at our first meeting. My effort to talk to her did not go far due to her silence.
After the group arrived in Beijing, they were invited to visit a bookstore to choose some books. The program organizers gave each child a 200-yuan coupon to pick up books they liked in the book store. The little Yin was puzzled by so many books in the store and making a choice became a tough work for her. I thought it was a good chance to communicate with her. I recommended some books to her; however, it seemed that she was too shy to reply. At first, she just looked at me with her big eyes, which made me a little nervous and I began doubting my method of communication. But I did not want to give up and continued asked her who was her favorite writer. Fortunately, she started to tell me weather she liked the book or not and even told me her teacher had recommended The Story Of My Life by Hellen Keller to her so she wanted that one. Our communication finally helped us find a handful of books.
In the evening, I helped the teacher to coach little Yin to write her diary, a practice advised by program organizer to encourage the teenager to write down what she experienced every day. "Could you please teach me how to write diary, sis?" she asked. I was a kind of moved to see that she started to talk to me actively.
The next day, we visited the National Museum of China. I was willing to show them a totally new world of the historical relics. Some children were more keen on taking photographs, in contrast, Yin Lijiao paid more attention to the introductions which I think is more important than just photographs. I introduced everything I knew to them, from the extravagance of African sculptures, to the differences of porcelains in Ming and Qing Dynasty. I was surprised and touched about how serious she was.
After several days, the little Yin really took me as a friend and an elder sister. She asked my whereabouts one day when I was absent from the group for half a day. And she even held my arm and said hello to me the next morning. On the final day when I saw her off at the airport, she asked for my mobile phone number and wanted to call or text me after she went back home. I gave my phone number not only to her, but also to all the other five children in her school, and asked them to phone me at any time they want.
I am so happy to see the change in Yin Lijiao during the week-long trip in Beijing. Although I am not able to change her personality, my efforts has made her feel our love. From shyness to the big smiles, this change was common for many children in our team. I believe it is our love that makes the children more friendly, and it is the love in our team that let every child smile happily when the program was over.
The author is a student of a high school affiliated to Renmin University and a volunteer of the Aramco Asia Youth Program