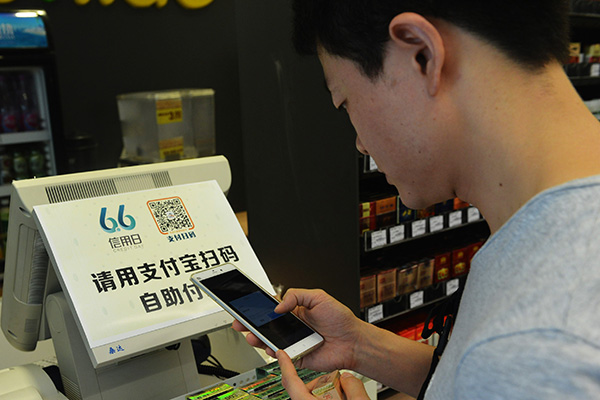 A man uses his smartphone to scan a Alipay two-dimensional code for payments at the first unmanned supermarket in Hangzhou, Zhejiang province. [Asianewsphoto by Long Wei]
To better protect Chinese consumers' information and money online, the People's Bank of China has proposed limiting the size of transactions through third-party online payment systems such as Alipay. Under the proposal released for public consultation, the daily quotas of online shoppers may shrink to between 1,000 yuan ($163) and 5,000 yuan, if they make purchases via a third-party payment platform. Comments:
On the one hand, the government is actively pushing for the implementation of its Internet Plus initiative, in a bid to optimize the economy. On the other, troubles will keep emerging if the conflicts between excessive administrative supervision and Internet-oriented innovation are not properly dealt with. The Internet Plus strategy can be a boost to efficiency, as well as a blow to traditional business mindset and industrial monopolies. It takes courage and wisdom to embrace the new era.
Beijing News, August 3
Objectively speaking, the central bank's draft guideline is not a negation of either Internet-based financial activities or financial innovation. But its multiple considerations, including the fight against money laundering and systemic financial crises and the protection of bank-to-bank transactions, seem to have confused many online shoppers. It calls for both moderate management of market behavior and innovations in managerial methods to reduce the clashes between the outdated management and the emerging market.
Beijing Times, August 3
It is understandable that the central bank seeks to regulate the third-party online payments, but it may face wide opposition if the regulations sabotage the convenience of online purchases.
Changsha Evening News, August 3
The rise of the Internet-based financial market will unavoidably pose a challenge to the traditional one, giving rise to competition between them. Stricter supervision and better management should be able to ensure the competition is fair and secure the healthy development and high efficiency of the Internet industry. Otherwise, the so-called payment security at the cost of online spending is nothing but the protection of traditional financial institutions.
gmw.cn, August 3