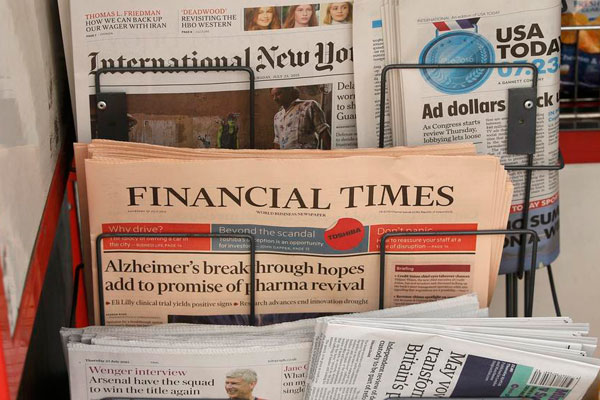 Copies of the Financial Times newspaper sit in a rack at a newsstand in London, Britain July 23, 2015. [Photo/Agencies] 
It was the deal no one expected.
For years there have been sporadic rumours that the Financial Times, Britain's stately grand dame of journalism, was on the auction block, but for 16 years, Marjorie Scardino, CEO of owners Pearson Plc, stoutly rebuffed all suggestions, saying the salmon-pink FT would be sold "over my dead body'.'
How times change. She stepped down in 2012 and John Fallon, her successor, conspicuously failed to rule out a sale of the 137-year-old title.
Even so, Thursday morning's announcement by Pearson that it was in the final stages of talks to sell the title, set off a wave of speculation by market and media watchers, and guess what? They all got it very wrong.
The usual suspects were trotted out - former New York Mayor and multi-billionaire Mike Bloomberg's eponymous news and market information service, Thomson Reuters and Germany's Axel Springer Group were all immediately touted as potential new owners, with News Corp's Rupert Murdoch an outside possibility.
Even journalists at the FT itself were in the dark, going so far as to suggest in print on Thursday that Axel Springer would win.
Not a chance. Despite a previously expressed desire to buy the FT, Bloomberg himself, a multi-billionaire, has his hands full reorganizing his news empire, which is already generating a healthy revenue stream. Thomson Reuters, lagging behind Bloomberg in data sales, may want to continue its focus on improving that side of its business. Murdoch already owns the Wall Street Journal, the FT's great rival, so he probably wouldn't have got past the UK's regulators.
Axel Springer was a hot favorite, with Reuters confidently predicting that the German media group was in the final stages of talks.
Er, no.