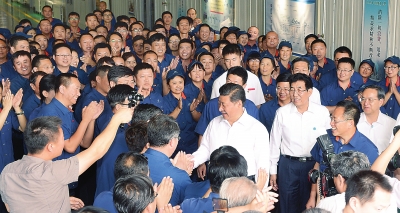 President Xi Jinping (Middle) greeting staff at the Northeast Industries (Group) Corp, in Changchun, Jilin province, on July 17 [Photo by Song Kai/chinajilin.com.cn]
Creating an environment that respects laws, knowledge and innovation through reform is the fastest way to attract talents to a place.
Northeast China, a heavy industrial base and grain production area consisting of Heilongjiang, Jilin and Liaoning provinces, should deepen its market and government reform, so as to curb its brain drain and attract innovative talents.
Official data show the three provinces, home to about 121 million people, lose about 2 million people of working age each year to the other economic hubs such as Beijing, Shanghai and Guangzhou.
The local governments are trying to attract more talent with high salaries and bonuses. But this has not worked, because Northeast China has not fundamentally transformed its economic structure that originates from the planned economy.
The local governments urgently need to accelerate the switch from laying a heavy hand on the local economies to offering a helping hand to society as the providers of public services, in a bid to add the overdue vitality to the private economy and society.
The stereotype image of Northeast China among people in the south is that it is a self-enclosed rigid community that runs more on personal connections than rules.
The local authorities should take the central government's reform as an opportunity to strengthen the rule of law in governing the economy and society, and enhance social fairness and justice.
In fact, Northeast China has many advantages, including modern industries, some key universities and institutes, a large number of technicians and engineers, good transport infrastructure, rich natural resources, fertile farmland, plenty of freshwater and an important geopolitical position in Northeast Asia.
If the local governments can transform the role they play, it will immediately turn these advantages into opportunities in the eyes of the talents the region needs.
The above is an abridgement of a Xinhua Daily Telegraph article published on Thursday.