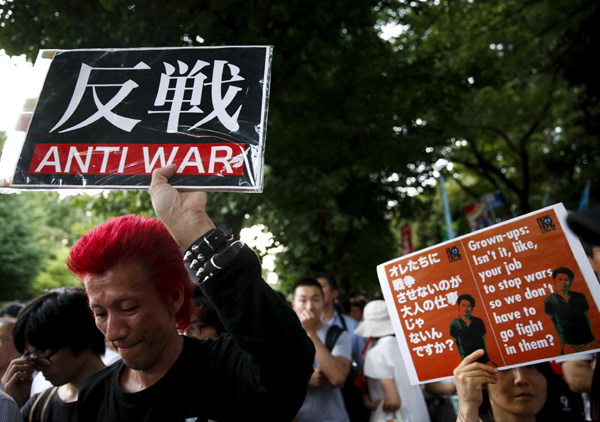 People hold placards during a rally against Japan's Prime Minister Shinzo Abe's administration and his security-related legislation in front of the parliament building in Tokyo July 15, 2015. [Photo/Agencies]
The Japanese Cabinet on Tuesday approved its annual defense white paper, in which it accuses China of raising regional tensions in the East China Sea and South China Sea. China's Ministry of Defense expressed strong dissatisfaction and opposition toward the 429-page document later the same day, saying it "tarnishes the image of China's military" and deliberately plays up the "China threat" theory. Comments:
By defaming China as a regional security threat in its defense white paper, the Japanese administration led by Prime Minister Shinzo Abe is clearly aiming to add necessity and legitimacy to the new security bills, which breach Japan's pacifist Constitution, and complicate Asia-Pacific security issues such as the South China Sea disputes. It will be unfortunate for both Japan and East Asia if Abe remains adamant on challenging China.
Xinhua News Agency, July 21
Japan's defense white paper for 2015 is not conducive to safeguarding peace and stability in East Asia. The so-called threat is not from China but Japan itself.
Kamakura Takao, an emeritus professor of Saitama University, Japan, July 21
Two new implications in Japan's latest defense white paper should be noted. First, the document is in line with the new security bills that Abe is trying to muscle through, offering excuses for the country's overseas military deployment. Second, as a non-stakeholder in the South China Sea issues, Tokyo may propose to participate in the US patrols in the area to expand its regional presence, and, of course, conduct more overseas military operations. It is a dangerous move that other regional powers should pay close attention to.
Qian Feng, vice-president of Asia Times, July 22
In the past, Japan used to see the Soviet Union and the Democratic People's Republic of Korea as the top threats. Now China has become the No 1 "threat". Confronted with the "unexpected" opposition to his security bills in Japan, Abe has resorted to the defense white paper to defuse public rage and convince peace-loving Japanese that the bills' passage is necessary.
Huang Dahui, director of the East Asia Research Center of Renmin University of China, July 21