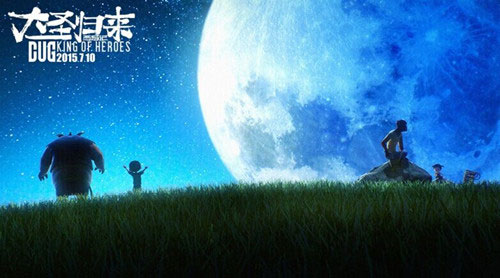 A poster of Monkey King: Hero is Back
Monkey King: Heroes Are Back earned 300 million yuan ($50 million) at the box office in the first three days after its release, setting a new record for a Chinese animated movie. Comments:
The movie was produced by a small company of less than 20 people in a rented apartment building room in Beijing. But they spent eight years making it. They have brought hope to Chinese animators, most of whom have struggled in the industry, self-employed, for a long time. The success of the movie, a work for an adult audience, does not come from violence and pornography, but its intricate plot, interesting story and unpredictable personalities, which are demonstrated through each delicate picture and the meaningful dialogues among the characters.
qq.com, July 16
Apart from the painting and production, the cartoon film succeeds in telling a good story that is not teaching the audience a lesson, or treating the audience as ignorant, but intriguing people by reflecting their lives and world. When a director is trying to communicate with the audience on an equal footing, his or her movies will win an audience.
thepaper.cn, July 16
Chinese audiences may not remember how long it has been since they have seen such a good cartoon film made in China. This one has stolen the title of box-office champion from two more expensive movies directed and produced by bigger companies. This movie is like a bowl of noodles for the audience which has been starved for a long time of a good animation made in China. However, it does not represent the awakening of the whole animation industry in China.
Xinhuanet.com, July 16
The success of the movie is based on the audience's low expectations for domestic cartoon makers and the successful marketing by its grassroots producers, which represents an inspiring dream of success come true. However, it is obvious the movie's ending is too hurried. Some of its fans say it is because the director wants to produce a sequel and thus he wanted to leave some suspense. But I assume it is because they did not have enough money, so they finished the movie in a hurry.
Bi Konglong, a columnist at tieba.baidu.com, July 16