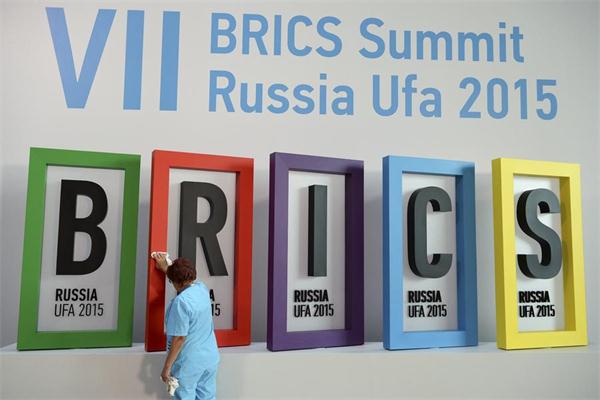 An employee cleans a board during the preparations for the BRICS summit in Ufa, Russia, July 7, 2015. [Photo/Agencies]
The two-day BRICS summit meeting due to open in Ufa, Russia, on Wednesday is expected to offer member states an important platform for exchanges aimed at pursuing development, promoting cooperation and mapping out win-win results amid increasingly complicated international and regional economic situations.
BRICS countries have proved to be a lasting engine of the world economy, as indicated by their contribution to global economic stability in the context of the global economic slowdown following the global financial crisis. The domestic political stability that BRICS countries enjoy, their huge markets, advantages in natural resources, accelerating industrialization and urbanization, as well as multi-layered interconnectivity and exchanges, are expected to create a brighter economic future for BRICS countries and thus become a lasting driving force for global economy.
BRICS countries have also actively participated in global governance and pushed for advancement of the international political and economic order in a more just and reasonable direction. Their active advocacy for democratization of international relations and mutual tolerance and references among different social systems, cultures and development models and their active involvement in the settlement of some significant international issues have acted as a positive energy in international relations.
At the same time, their strengthened role and coordination in the United Nations, G20, International Monetary Fund, World Bank and the World Trade Organization have endowed global economic governance with new vitality. They are also making steady steps toward building a BRICS development bank and an emergency reserve arrangement that will complement the existing facilities.
The open cooperative mechanism advocated and pioneered by BRICS countries has not only expanded the space for cooperation among themselves, but also offered new opportunities for broad cooperation among developed countries, and will promote steady advancement of South-South cooperation.
The increasingly mature cooperative mechanism established among BRICS countries has brought tangible benefits to member states.
The above is an abridgement of a People's Daily article published on Monday.