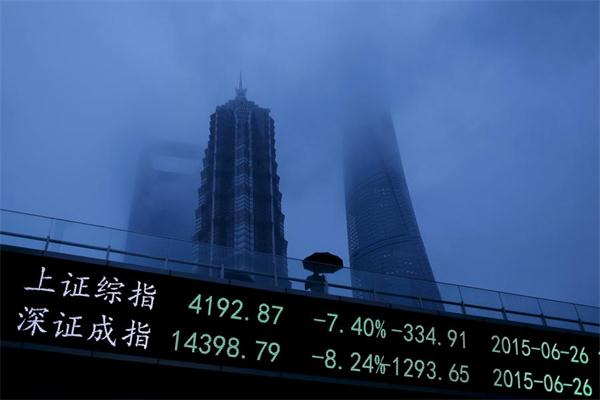 A man walks past an electronic board showing the benchmark Shanghai and Shenzhen stock indices, on a pedestrian overpass at the Pudong financial district in Shanghai, China, in this June 26, 2015. [Photo/Agencies]
The central authorities have introduced a number of measures to help the ailing stock market get back on track, including cutting the number of new shares hitting the market, calling on top brokerages to buy massive amounts of shares and pledging to raise money through multiple channels. Comments:
For the time being, the reform and opening-up will pay dividends later on, the macro-economy is beginning to stabilize and recover, and the liquidity remains abundant. With a history of over 20 years and a slew of back-up fiscal policies, China's A-share market has plenty of experience in dealing with emergencies, and it is fully capable of solving the temporary problems.
People's Daily, July 6
Being a key part of the modern economic system, the capital market, especially the stock market, can only work efficiently when it is transparent, fair, and able to respond in a timely manner to changes. This also applies to China, whose growth target largely depends on a stable and healthy capital market.
xinhuanet.com, July 6
For financial regulators in the country, their timely measures to prop up the stock market are only temporary, and they have to think more about how to further regulate the market to enhance its fundamental role in allocating resources. On the other hand, private investors should learn to make rational and independent decisions after the crisis, and develop a maturer attitude to investing.
Daily Sunshine, July 6
Of course, the instant government response is not a fundamental cure for the Chinese stock market, a fact that the central government will be wise enough to know. What the government has tried to imply is that non-interference would be even more dangerous. It needs a stopping point as well as a tipping point in the market-oriented expectations to enable solutions.
Global Times, July 6