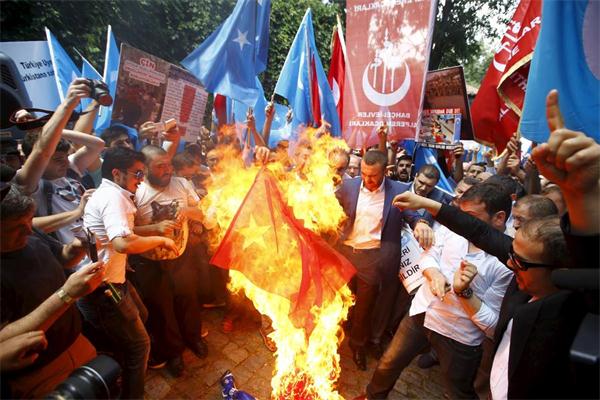 Demonstrators set fire to a Chinese flag during a protest against China near the Chinese Consulate in Istanbul, Turkey, July 5, 2015. China warned its citizens travelling in Turkey to be careful of anti-Beijing protests, warning them that some Chinese tourists have recently been "attacked and disturbed". The notice, posted on the Ministry of Foreign Affairs website. [Photo/Agencies]
The incidents in which Chinese tourists were attacked and disturbed in Turkey last week has drawn grave concerns in China over the safety of Chinese sightseers.
After the local media reported that China had banned Ramadan in the Xinjiang Uygur autonomous region, multiple attacks targeting Chinese tourists have occurred in Turkey amid anti-China protests across the country.
But the reports that Muslims in Xinjiang had been barred from praying and fasting during the holy month of Ramadan are a blatant distortion of facts.
As a country that enshrines freedom of religious beliefs in its Constitution, China fully respects its Muslim population's religious rituals.
This year even before the holy month of Ramadan began, the authorities in Xinjiang, which is home to the country's largest Muslim community, stepped up their efforts to ensure Muslims could observe Ramadan in peace and harmony.
A predominantly Muslim country, Turkey has both linguistic and religious links with the Uygur community in Xinjiang, and in recent years, it has pointed an accusing finger at China's policy in the region.
Last week, the Turkish government said without verifying the facts that it was concerned about China's treatment of Muslims. This also constitutes interference in China's internal affairs, and it has strained bilateral ties.
Ankara's interference in China's Xinjiang issue has become a bottleneck to the healthy development of China-Turkey ties. The government should not allow nationalists and rightists to hold relations with China hostage as that serves neither country's interests.
Turkey should respect the basic norms governing international relations and take moves to curb anti-China sentiments and bring the perpetrators to justice, as harassment of foreign tourists is a crime and brings shame to any civilized society.
The Turkish government has an unshirkable responsibility to protect the safety of Chinese tourists and prevent the situation from further worsening.