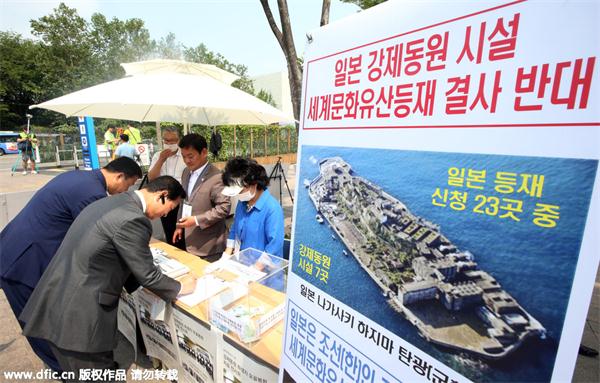 Two South Korean men sign their names to support the South Korean government's opposition to Japan's bid for a UNESCO World Heritage listing of historical industrial sites. [Photo/IC]
Japan's recent bid to have 23 coal mines, shipyards and other industrial zones of the Meiji Reform period in the 1860s recognized as world heritage sites, was postponed in the ongoing meeting of the UNESCO World Heritage Committee in Germany, due to the Republic of Korea and China opposing the bid because Japan insisted on excluding acknowledgment of the labor from China, the Korean Peninsula and other Asian countries that were forced to work at some of the sites. Comments:
The lawful appeals of many innocent victims of Japan's historical aggression remain unanswered. If Japan ignores the slave labor in these sites, what kind of message is the country sending to the international community? China urges Japan to acknowledge and properly respond to its concerns.
Hua Chunying, spokesperson of China's Foreign Ministry, May 14
Based on the refusal to reflect on its wartime crimes, Japan's bid to have its sites added to the UNESCO World Heritage list, not only betrays UNESCO's purpose of preserving global peace, but also infringes on the interests of all the countries it victimized before and during the WWII.
Tong Zeng, president of the China Federation to Demand Compensation from Japan, July 2
It's not just forced labor. There used to be terrible working conditions for the laborers, and there were strikes and there is a whole social history that composes part of these sites, and if they are just going to be glossed over, left as a footnote or even left out, then that's an equally big problem.
Andrew Gordon, a historian at Harvard University, June 30