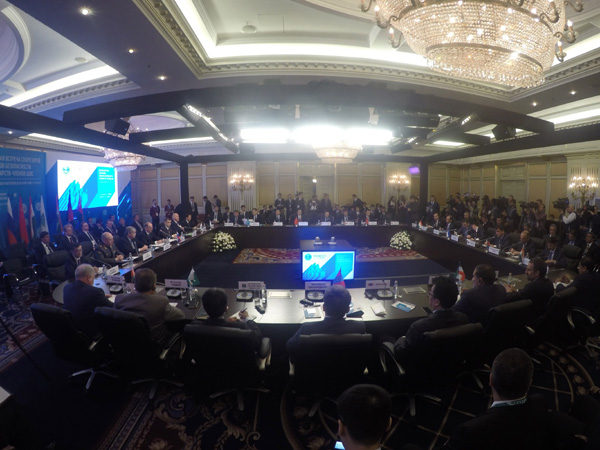 Delegates attend the 10th meeting of the Shanghai Cooperation Organization (SCO) security council secretaries in Moscow April 14, 2015. [Photo/Xinhua]
At the invitation of his Russian counterpart Vladimir Putin, President Xi Jinping will attend the seventh BRICS summit and the 15th meeting of the Council of Heads of State of the Shanghai Cooperation Organization, which are to be held in Ufa, Russia, next week.
Since their foreign ministers first met in 2006, the BRICS countries have evolved into an important platform for communication and dialogue among developing countries on economic, financial and development issues and acted as an important element in driving global economic growth, promoting better governance and strengthening multilateralism and the democratization of international relations.
With an open, inclusive, cooperative and win-win approach, the pragmatic cooperative partnership among the BRICS countries will continue to make steps forward, especially under the push of their accelerated efforts to set up a BRICS development bank and an emergency reserve arrangement. The further steps toward consolidating the two facilities that can be expected during the meeting in Ufa will create a closer, firmer and more comprehensive partnership among the BRICS countries.
At last year's SCO meeting, Xi stressed the need to nurture an awareness of a "community of shared destiny", increase cohesion and create a more mature, unblocked and coordinated cooperative and dialogue mechanism as a way to promote regional security and common prosperity. At the Ufa event, the leaders of the SCO countries are expected to exchange views on issues related to regional security and stability, reach new consensus on the organization's future and map out a long-term program on a range of issues, from trade, investment and finance, to grain security and environmental protection.
The holding of the two meetings back to back highlights the growing awareness of a community of shared destiny, and they will help create shared and brighter development prospects for the countries involved.
The above is an abridgement of a People's Daily article published on Wednesday.