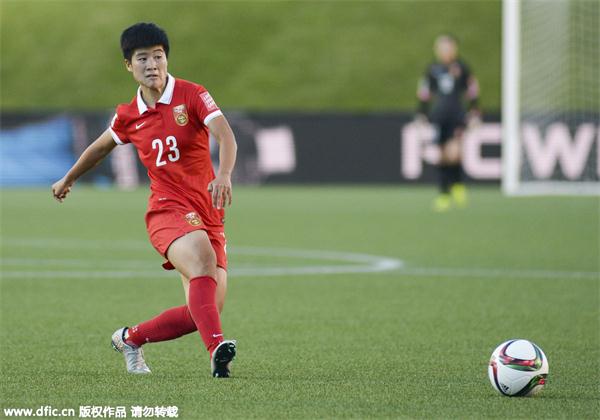 Ren Guixin (#23) of China during the FIFA 2015 women's World Cup Quarter-Final match between China and the USA at Lansdowne Stadium in Ottawa, Canada. [Photo/IC]
Although China didn't advance past the quarterfinals in the 2015 Women's Football World Cup after losing 0-1 to the United States, its progress in the tournament was beyond expectations and won the players the attention and rewards they deserve. Comments:
In terms of soccer's popularity, China is far behind its neighbor Japan. Despite its population being 10 times that of Japan, China has only about 6,000 registered woman soccer players while Japan has as many as 40,000. The crucial problem with China is how to make soccer more attractive for more woman players; it's not about money alone. We could learn from Japan how to closely integrate women's soccer into physical education classes in schools to change the public mindset about this sport.
Jiefang Daily, June 28
To maintain a high level of competitiveness, we need systematic training of grassroots soccer talents in order to build a big pool of reserves. We could learn from European soccer clubs, because every professional club has to help train a women's soccer team, which apart from drawing public attention, also guarantees professional training for woman players.
Beijing Evening News, June 28.
Since the World Cup is held every four years and the national team cannot always be expected to perform beyond expectations, the irregular material rewards cannot ensure sustainable development of women's soccer in China. The key to breaking the development predicament and helping woman soccer players get regular incomes lies in fostering a professional and profitable soccer league for women. A successful and professional soccer league will not only ensure the players are well paid, but also help elevate their performance levels.
Nanfang Daily, June 28