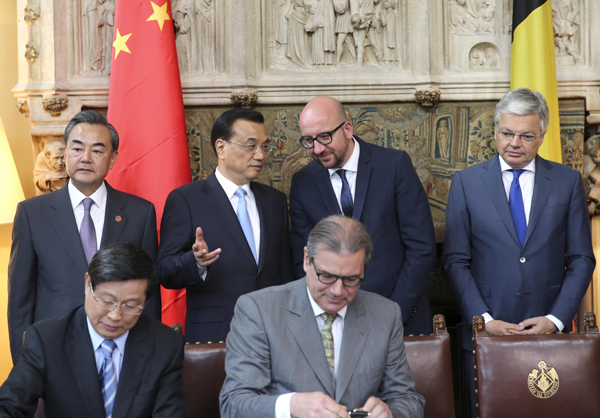 China and Belgium sign an array of cooperation deals worth 18 billion euros during Premier Li Keqiang's visit to Belgium, June 29, 2015. [Photo/Xinhua]
The 17th China-EU leaders' meeting in Brussels, which coincides with the 40th anniversary of bilateral diplomatic relations, is expected to inject a new vitality into the strategic partnership.
After four decades of development, China and the European Union have established multi-layer dialogues and consultations covering more than 70 fields, and realized a bilateral trade value of $615.1 billion, up from less than $3 billion 40 years ago. The increasingly interdependent China and EU now enjoy opportunities for further development of their relations.
During a visit to the EU headquarters in 2014, President Xi Jinping proposed joint efforts to forge partnerships between China and the EU that promote "peace, growth, reform and civilization", drawing up a blueprint for ties in the future.
As part of efforts to implement the EU-China 2020 Strategic Agenda for Cooperation, the two sides are accelerating talks on an investment agreement. And the participation of numerous EU countries in the China-led Asian Infrastructure Investment Bank as prospective founding members has consolidated mutual trust with China. By linking their respective development strategies and sharing the dividends resulting from each other's reforms, China and the EU can intensify their relations and succeed in forging a mutually beneficial and win-win strategic partnership.
As they are both pushing for the world's multipolarization, China and EU should strengthen their communication and coordination to tackle global challenges so they can play a stronger role in the fight against terrorism, environmental protection, humanitarian aid, trade liberalization, and international economic and financial governance.
China and the EU should know that it is natural for them to encounter trade frictions and ideological differences, and they should respect and listen to each other, and fully commit to dialogue and cooperation.
The above is an abridgement of a People's Daily article published on Monday.