Editor's note: For our US blogger, who goes by the online moniker kellivschina, it is hard to capture in words exactly what it is like to live in China, since life here seems different in many ways from her home country. But she still came up with 10 tips to summarize her Chinese experiences. You're welcome to leave your comments.
1. It's okay to look lost.
I don't know how it is other countries, but in America we have this mindset that to show weakness is a bad thing. Don't ask for help—be independent! (After all, that's what America is all about, right? INDEPENDENCE!!)
The truth is that there's going to come a time in China when you need help, and all the independence in the world can't make up for what you lack in Chinese speaking skills. The great thing about China is that if you look lost, I can almost guarantee that within three minutes you will have a whole crowd of well-meaning Chinese people trying to help you.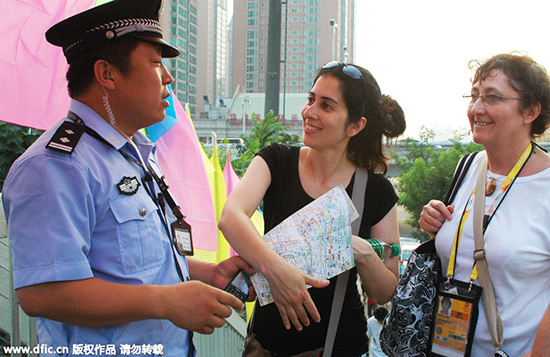 Two foreign tourists ask for directions from a police officer on Aug 9, 2008.[Photo/IC]